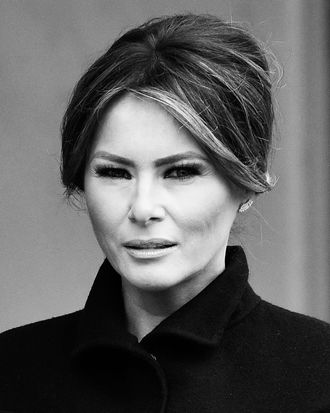 Melania Trump.
Photo: NurPhoto via Getty Images
On Tuesday afternoon, Melania Trump made an urgent call for a top White House aide to be fired — a stunning, totally uncharacteristic move from the private First Lady.
The offending aide is deputy national security adviser Mira Ricardel, with whom Melania reportedly feuded during her trip to Africa in October. As evidenced by the statement released by her communications director, Melania was clearly disturbed by this spat.
"It is the position of the Office of the First Lady that she no longer deserves the honor of serving in this White House," Stephanie Grisham said of Ricardel, less than an hour after the latter made an appearance at an official White House event with President Trump. Per one source who spoke to CNN, not even Trump or White House spokesperson Sarah Sanders knew about the statement before Grisham circulated it.
What … is going on? Here's what we know so far.
Who is Mira Ricardel?
For the past seven months, she has served as the deputy national security adviser under national security adviser John Bolton, whom she has helped restructure the National Security Council. Just hours before Melania called for Ricardel to be fired, The Wall Street Journal reported that Trump had fired the aide, according to officials.
What happened in Africa?
Apparently, Ricardel and the First Lady's staff clashed last month in Africa, according to someone familiar with the matter. The New York Times reports that first, Ricardel announced the trip before plans were finalized, and then later threatened to withdraw resources for the trip upon learning that no seat had been reserved for her on Melania's plane. After the trip, one source told the Times that Ricardel accused Melania's staff of acting inappropriately. (A person close to the First Lady denies such behavior.)
During this trip, Melania revealed to reporters that she doesn't trust everyone in the White House.
"You always need to watch your back," she said.
But is that all that happened in Africa?
To public knowledge, yes. However, before this mysterious quarrel, Ricardel had publicly feuded over hirings with Defense Secretary Jim Mattis, even before she became deputy national security adviser. CNN reports that Ricardel also had been butting heads with Chief of Staff John Kelly and his deputy Zach Fuentes over the past few weeks, reportedly because they believed she was leaking critical stories about them to the press.
So is this woman actually going to lose her job?
Officials told The Wall Street Journal that Ricardel was fired and escorted from White House grounds, but a senior White House official told reporters that Ricardel was still inside her office this afternoon. However, another official told CNN that Trump has been telling people that Ricardel will soon be out of a job, and that she was simply given time to clean out her desk.
As of Wednesday morning, it's still unclear whether Ricardel has been officially dismissed, or if she will simply assuming another position in the administration.
Mira Ricardel was officially removed from working with Melania.
According to the New York Times, Ricardel was seen packing up her things in her bag. She will reportedly remain working for the White House, but won't be working under with the First Lady and her staff.
"Mira Ricardel will continue to support the president as she departs the White House to transition to a new role within the administration," Sarah Huckabee Sanders told the Times in a statement.
But really … what happened in Africa?