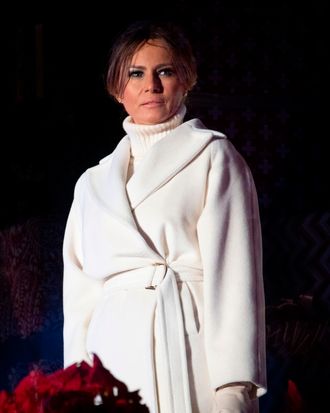 Melania Trump.
Photo: JIM WATSON/AFP/Getty Images
Melania Trump's taste in holiday décor for the White House has inspired a lot of discourse. Not without reason, considering that for two holiday seasons in a row, she's decided to embrace the dark side of the most wonderful time of the year. This time, it's a forest of blood-red trees that have inspired comparisons to the Handmaid's Tale, Elmo, and something that belongs in a Stephen King novel. But we can call her trees haunted all we want — Melania stands by her interior-design choices.
During an interview on Wednesday, she simply defended herself by reminding everyone it's 2018 and we live in a world of options. "We are in the 21st century and everyone has different tastes, but I think they look fantastic," she said. "I hope everyone will come over and visit it. In real life, they look even more beautiful."
Visiting the White House during the holidays (or ever) is not super appealing — so we'll probably never know how they look in person. If you can survive the forest of bloody nightmares, there's still the rest of the décor to withstand. Somewhere, there is also a wreath of pencils with the slogan of Melania's anti-bullying campaign hung up as a way to signal the joy of the season.
In the end, it is Melania who has to walk along those halls, and look at those decorations, and celebrate Christmas with her husband. Maybe she feels like ghoulish, impersonal, slightly terrifying décor is what fits best in the White House.