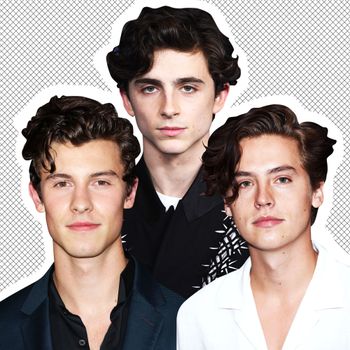 The word "heartthrob" sounds outdated these days — foreign, even. This is probably because we're finally comfortable just admitting that something, like a dude or possibly a duck, makes us horny. But sometimes it's still useful to use the term, since it can feel a little questionable to talk about being horny over someone born in the mid-to-very-late '90s (like many of today's heartthrobs.)
So what makes today's heartthrob a heartthrob, other than fame and birth date? Urban Dictionary's current definitions repeatedly reference the phrase "very good looking," descriptions of people "swooning" as a result, and casual mentions of the K-pop boy band BTS. But further research has shown that a many of the 20-somethings that are getting everyone totally soaked have something else very identifiable in common. That thing is their hair.
Now, the majority of aforementioned heartthrobs BTS all have the same floppy, middle-parted hairstyle that characterized "heartthrob hair" of the '90s (your Leo DiCaprios, your Shawn Hunters, your JTTs). But this decade has also spawned its very own updated version of "heartthrob hair." Today's heartthrob hair seems to be:
Dark

Pretty wavy

Strategically disheveled but noticeably styled

Damp, or perhaps recently dried

Pretty shiny

Good-smelling, or at least it looks that way (I have not tested this theory)

On the head of someone who looks like they were probably on the Disney Channel after you stopped watching it
You may not know who these "heartthrobs" are, what these "hearttrobs" do, or what social platform catapulted them to "heartthrob status," but one thing is for certain: you know they're a "heartthrob" because they all pretty much have the same hair and that hair looks great. For example…
Shawn Mendes
(He plays guitar and sings very well. Spawned from Vine.)
Charles Melton
(He is on Riverdale.)
Timothée Chalamet
(You know who this is.)
Zayn Malik
(Used to be in that one boy band from X Factor.)
Noah Centineo
(This guy.)
Joel Pimentel
(Is in the boy band CNCO from the show La Banda.)
Cole Sprouse
(Used to be on Disney with his twin. Is now on Riverdale.)
Avan Jogia
(Was on a Freeform show that got cancelled.)
Swoon-inducing, indeed. Guess which one is 19!