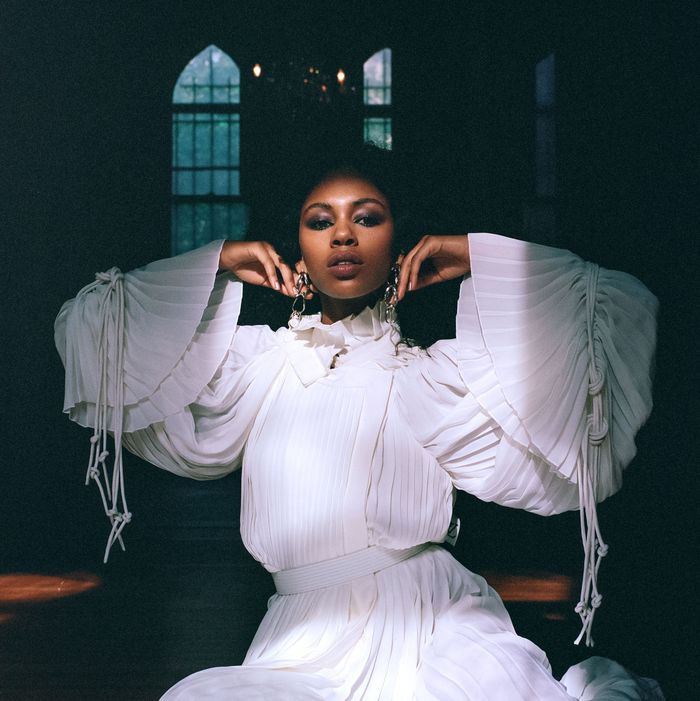 Louis Vuitton
long pleated dress, $10,900, and Infinivy 3 Maillons earrings, $585, both available at louisvuitton.com.
Photo: Micaiah Carter
When Micaiah Carter moved to New York City at the age of 18 from the High Desert of California, he didn't know a soul. With a scholarship at the New School, though, and a longtime dream of making it as a fashion photographer, he was forced to make friends — and fast. Dylan Ali, a DJ who goes by "Dylan the Gypsy" on Instagram, was one of them. She was studying at NYU at the time, and they first met through Carter's roommate. They've have remained close friends and collaborators since, which is why he chose to cast her as his muse for the Cut's latest "Out of the Box" series.
"I really like her because she's a black female DJ," Carter told the Cut. She's not a model; she's a fixture of New York's nightlife scene, hosting parties under the name Pink Honey. "She's really good at it, and really serious about what she does," Carter continued. "I like to see intention when I work with other artists."
Recently, we sent Carter and Ali a box of clothes from Louis Vuitton's resort collection, and asked them to play around. Ali has a strong personal style, so Carter was confident in letting her dress herself. He also asked his muse to share her own inspirations, and Donna Summer immediately came to mind, hence Ali's voluminous curly hair and colorful makeup. The resulting images combine Carter's influences — Carrie Mae Weems, Viviane Sassen, Jamel Shabazz — with Ali's musical spirit. All under the roof of a Brooklyn brownstone.
"She plays her music during the shoot from Soundcloud," Carter says of his times on set with Ali. "It creates these magic moments of us being vulnerable, which you can only get from people who've known each other."