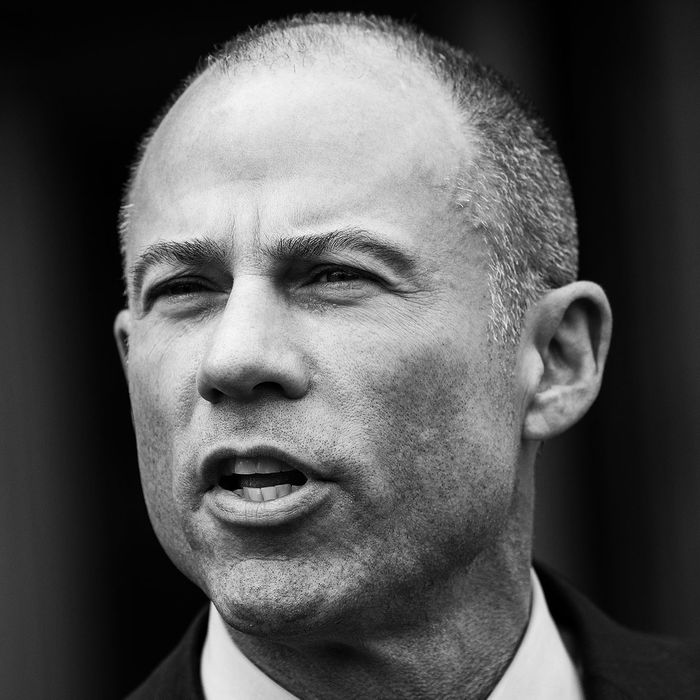 Michael Avenatti.
Photo: Drew Angerer/Getty Images
On the evening of November 14, Michael Avenatti, the lawyer who represents Stormy Daniels in her lawsuit against President Trump, was taken into police custody after being accused of domestic violence, according to the Associated Press. Avenatti has vehemently denied the claims, and just hours after the arrest, he was released on bail. Then, on the morning of November 15, he posted a somewhat cryptic tweet that seems to imply his arrest is part of a conspiracy. One week later, an actress named Mareli Miniutti filed a restraining order against Avenatti, and it was later confirmed that she was the alleged survivor in the lawyer's arrest.
It's already a very complicated situation — here's what we know so far.
Avenatti was arrested on suspicion of domestic violence.
On November 14, TMZ reported that Avenatti was arrested after an alleged injured woman filed a felony domestic-violence report; shortly after, other news outlets such as BuzzFeed and the AP confirmed the arrest.
A few hours after TMZ published its report, the LAPD tweeted to confirm that the department had arrested Avenatti "on suspicion of domestic violence."
He has suggested that the arrest was part of a conspiracy.
On the evening of November 14, Avenatti released a statement denying any and all accusations of physical violence against him. That night, he was released on a $50,000 bond.
"I have never been physically abusive in my life nor was I last night," read a portion of the statement. "Any accusations to the contrary are fabricated and meant to do harm to my reputation. I look forward to being fully exonerated."
Avenatti appears to think that right-wing troll Jacob Wohl had something to do with his arrest. (Wohl has been accused of playing the central role in a bizarre scheme to take down Special Counsel Robert Mueller.)
"First Mueller and now me," he tweeted on November 15. "When we are fully exonerated I am coming for you Jacob Wohl aka Surefire."
Stormy Daniels wants to "reserve judgement."
On November 15, Daniels released a statement, saying that while the allegations against her lawyer are disturbing, she will not give her opinion until an investigation into the claims are complete.
"These are serious and obviously very troubling allegations, but right now that is all they are: allegations," she said. "We should all reserve judgement until the investigation — an investigation Michael has said he welcomes — is complete, and that's what I'm going to do."
If the allegations prove to be "true," however, Daniels says she will "be seeking new representation."
The alleged survivor is Mareli Miniutti.
On November 19, the Daily Beast reported that an Estonian actress named Mareli Miniutti, 24, had filed a restraining order against Avenatti. While it was unclear at first whether she was the alleged survivor in Avenatti's arrest, CNN has confirmed that she was. In the restraining order, of which BuzzFeed News obtained a copy, Miniutti alleges that the lawyer dragged her across his floor, hit her in the face, and kicked her out of his apartment following a fight about money.
Though Miniutti claims that Avenatti pushed her into a wall and threw his shoes at her in February, the report focuses on an incident that allegedly transpired on November 13. Per the restraining order, the lawyer called the 24-year-old an "ungrateful bitch" and told her, "You don't get sleep in my house tonight." Then, Avenatti grabbed Miniutti's right arm, and dragged her across the floor and into the hallway, where she began ringing a neighbor's doorbell in an attempt to get help, according to the declaration.
Avenatti reportedly got Miniutti back into his apartment, but the document claims that she quickly gathered her belongings and rushed down to the lobby, where she telephoned her friend to come get her; later she reported the alleged incident to the police. On November 20, Miniutti was granted the restraining order.
Avenatti, again, has denied any wrongdoing.
"When the truth and the facts are fully disclosed, including the security camera footage, I will be vindicated and a lot of people and news organizations are going to owe me an apology as well as money," he tweeted. "Completely bogus."