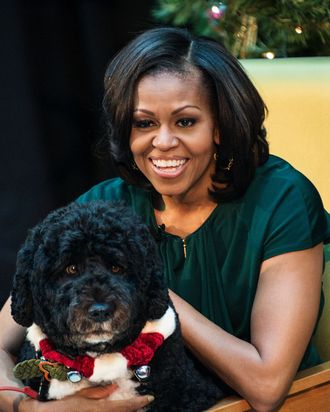 Michelle and Bo.
Photo: BRENDAN SMIALOWSKI/AFP/Getty Images
A woman and her dog. I cannot think of a more peaceful pairing. A shared connection; a tether from heart to heart; a warm, quiet bond. Nothing showy, nothing false. No words necessary. Just a sweet friendship, and an enduring love. Unfortunately the first piece of media that comes to mind (my mind, that is; I'm not sure about yours) about a woman and her dog is the movie Wendy and Lucy, the ending of which makes me sad to think about (though I do love Michelle Williams) (and the dog who played Lucy). Maybe for the next movie about a woman and her dog, someone can adapt this excerpt from Michelle Obama's memoir Becoming, via CNN:
"After Bo expertly disemboweled or shredded every last dog toy bought for him by the staff who did our regular shopping, I personally escorted him over to PetSmart in Alexandria one morning. And for a short while, I enjoyed glorious anonymity while browsing for better chew toys as Bo — who was as delighted by the novelty of the outing as I was — loafed next to me on a leash."
I absolutely love it. Calm and quiet. Michelle Obama and Bo looking for tough toys in PetSmart, which — I know from experience — do not exist. Unfortunately, even the so-called toughest plush toys available at PetSmart can be destroyed almost instantly by a dog who maintains a singular focus, which they so often do. No matter. Michelle Obama and Bo had a meaningful, quiet outing, and I look forward to the Before Sunrise–esque film that will result. If paid handsomely, I will write it myself. Thank you, Michelle and Bo. I love you.