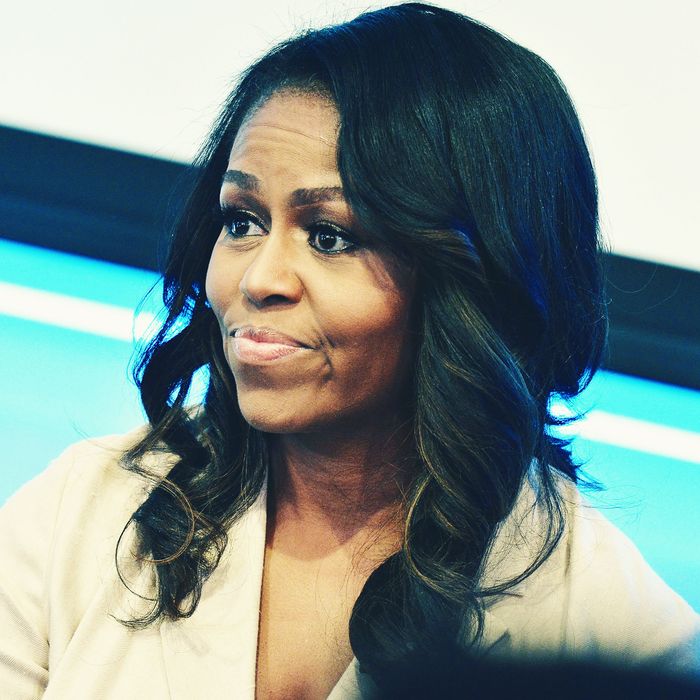 Michelle Obama.
Photo: Shannon Finney/Getty Images
Michelle Obama got candid in an interview with Good Morning America's Robin Roberts, saying she felt "lost and alone" after undergoing a miscarriage 20 years ago; she also revealed that in vitro fertilization allowed her to give birth to her two daughters.
In the interview, which aired Friday morning, Obama said she felt like she "failed because I didn't know how common miscarriages were because we don't talk about them. We sit in our own pain, thinking that somehow we're broken … I think it's important to talk to young mothers about the fact that miscarriages happen." She added that when she was around 35, she and Barack "had to do IVF" to conceive Sasha and Malia.
While the exact numbers are hard to parse, miscarriage is common among women, occurring in at least one in five pregnancies. Women have been having miscarriages and openly discussing them since the beginning of time, but by the end of the 20th century, with advancements in prenatal care and legal triumphs over reproductive control, the topic entered the realm of taboo. Only recently, with social-media campaigns (#ihadamiscarriage) and celebrities like Mark Zuckerberg and Priscilla Chan opening up about their three miscarriages, has the cultural silence been somewhat challenged.
In her upcoming memoir, Becoming — set to be released Tuesday — Obama opens up about her childhood in Chicago, racism in public office, early marriage struggles with Barack, and what it's like to be America's first black First Lady. She will kick off her nationwide speaking tour next week.