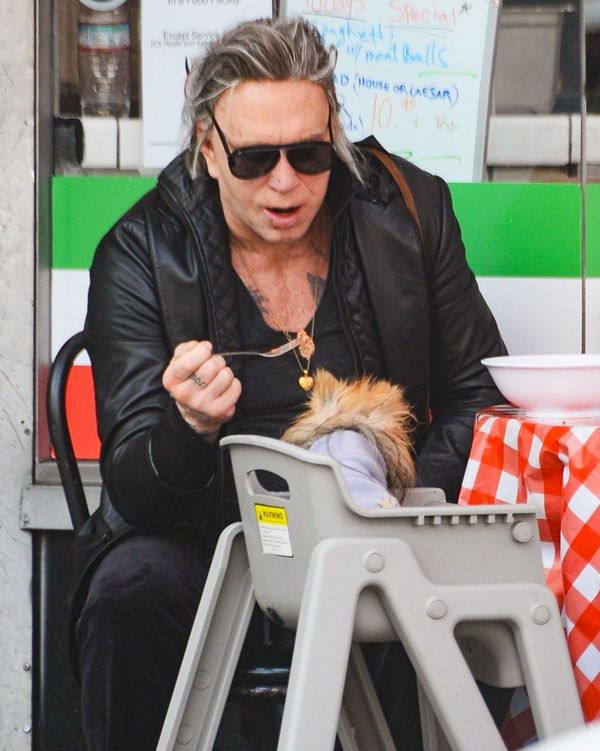 Rourke feeding Number One.
Photo: BKNY / BACKGRID
If, for some reason, your mental vision board includes actor and retired boxer Mickey Rourke tenderly feeding a small dog spaghetti while the dog sits in a high chair, then I have some good news. As the Daily Mail succinctly put it: "Mickey Rourke, 66, sits his tiny pet Pomeranian in a HIGH CHAIR and feeds him like a baby … as he finds loophole in café's animal ban."
Rourke's outing with Number One occurred on Saturday, which he immortalized on his Instagram with a photo captioned "Carbonara Day ❤️❤️❤️❤️❤️❤️❤️❤️❤️❤️❤️❤️❤️."
Though this particular set of images is particularly blessed, Rourke has been a notable lover of small dogs throughout the years. According to the seminal Animal Planet slideshow, "10 Celebrities Who Love Tiny Dogs:"
Ruggedly handsome actor Mickey Rourke enjoyed the fringe benefits of fame during the 1990s — maybe a little too much. Rourke has publicly admitted to partying his way through a small fortune, but said his small dogs brought him back to reality.
HIGH CHAIR!