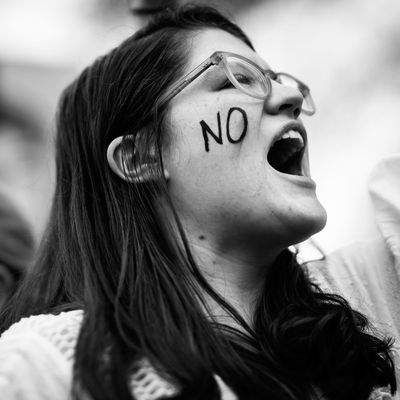 Photo: Drew Angerer/Getty Images
Tuesday's results were messy and contradictory, just like the current reality of reproductive rights. The federal courts are almost certainly not going to protect abortion access, and for now, at least, the states will have the power both to give and take away. "We made huge gains at the state level, which is going to be crucially important as we face the post-Roe reality," says NARAL president Ilyse Hogue. Exit polls showed broad support for Roe v. Wade but also suggested that Republican voters in states like Indiana and North Dakota were motivated by Brett Kavanaugh's nomination to vote Republican. Here's a full breakdown, from depressing to hopeful.
The Senate — and the judiciary — are gone. The exact tally is still TBD, but there's no question Republicans grew to a commanding majority in the Senate, which has the sole authority to select federal judges and Supreme Court justices. These are the judges who decide how much states can limit abortion and contraceptive access.  Replacing Justice Anthony Kennedy with Brett Kavanaugh was bad enough; should Donald Trump have the chance to make another pick for the Supreme Court justice, the impact would be catastrophic.
Two out of three anti-abortion ballot measures passed. First, the bad news: Alabama voters approved a ballot measure that declared support for "the sanctity of unborn life and the rights of unborn children," and to "provide that the constitution of this state does not protect the right to abortion or require the funding of abortion." For now, it's largely a symbolic move, unless the Supreme Court opens the door to its enforcement. Dr. Willie Parker, an abortion provider and board chair of Physicians for Reproductive Health called it "so vague and dangerous that it could ban any abortion in the state."
Of more immediate impact is the passage of a constitutional amendment in West Virginia that strips Medicaid patients of insurance coverage for abortion. Senator Manchin, the Democrat West Virginia reelected, tepidly opposed the measure. Deirdre Schifeling, executive director of Planned Parenthood Votes, blamed its passage on "incredibly deceptive and vague" language, and said the group is looking at the possibility of litigations. In another sign of the deepening chasm between red and blue states, Oregon voters went in the opposite direction and reaffirmed the state's already broad public funding for abortion. And in Idaho, Utah, and Nebraska, voters chose to expand Medicaid, which will include comprehensive birth-control coverage, if not coverage of abortion.
Democrats control the House; some noxious anti-choicers went home. Plenty of damage has and still can be done by Trump-controlled federal agencies. (Just this week, the Department of Health and Human Services issued rules to limit abortion coverage on insurance plans on the exchange and to grant employers broad ability to opt-out out of including birth control in their plans.) But without Republican control of the House, no major legislation restricting access to contraception or birth control — including defunding Planned Parenthood or a ban on abortion at 20 weeks — is likely to go anywhere. Pro-choice champions won in red states; Hogue is particularly fond of newly minted Texas Congressman Colin Allred, who she calls "100 percent a man for choice." In Orange County, California, 31-year-old Katie Hill, who spoke openly about how her miscarriage at 18 had informed her support for reproductive freedom, bested the anti-abortion Steve Knight.
State maps look a lot better for reproductive rights than they did yesterday. Despite disappointments in Florida and Georgia, pro-choice Democrats didn't lose a single governor's seat and picked up seven more. Former governors in some of the those states — including Kansas, Michigan, and Wisconsin — were zealous in limiting abortion access, making the replacements especially significant. Blue states also got bluer, with a total of state legislative 300 seats flipping Democratic, paving the way for stronger protections on access. "We have six new trifectas," noted Hogue, meaning that Democrats control both chambers of the legislature and the governor's mansion. "A lot of those candidates, be they at the house of delegates' level or the governors' level, were running hard and strong on our issues."
Kelly Baden, who directs reproductive rights for the State Policy Innovation Exchange, points out that some of these trifecta states (Colorado, Illinois, New Mexico, and New York) "serve as critical access points" for people who come from out of state to get abortions. In New York, for example, eight state Senate seats went to Democrats, after a concerted campaign highlighted their Republican opponents' refusal to pass a Reproductive Health Act, in the the event that Roe v. Wade is overturned. Democrats now control the New York State Senate for the first time in a decade.
Some Republican supermajorities, which can override vetoes, were shrunk to regular old majorities. But on a bleaker note, Ohio's governor Mike DeWine worries Hogue: "You've already got a rabid anti-choice state legislature there, and now a governor who sees eye to eye with them on that."