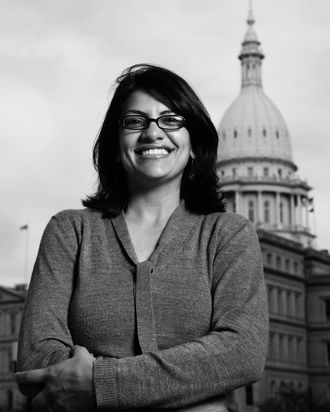 Rashida Tlaib.
Photo: Al Goldis/AP/REX/Shutterstock/Al Goldis/AP/REX/Shutterstock
The Democrats regained control of the House, but that's not the only good news coming out the 2018 midterm results. There are also some other very notable glimmers of hope, the result of months of hard work from organizers and millions of voters turning out to the polls. Here's the best news to come out of the midterms.
The first Muslim women were elected to Congress.
In Michigan, Rashida Tlaib became the first-ever Muslim woman elected to the U.S. Congress. She ran unopposed by a Republican challenger for the 13th Congressional District. She won her primary in August, beating out five other challengers. She was joined by Ilhan Omar, who won Minnesota's Fifth Congressional District, replacing Keith Ellison, who previously held the seat.
Millions of people in Florida had their right to vote restored.
In Florida, voters passed Amendment 4, which was a ballot measure to restore the voting rights of people who were convicted of felonies in the state. Vox reported that 17.9 percent of black Floridians couldn't vote due to previous felony convictions. Forty percent of black men in Florida will have their voting rights restored, with the passing of the ballot measure.
The amendment received a lot of progressive grassroots support, and was endorsed by organizations like the American Civil Liberties Union, Florida for a Fair Democracy, and even the Koch brothers–backed Freedom Partners. The amendment will now allow over a million people to vote.
A Republican beloved by the NRA lost her congressional seat.
In Virginia, incumbent Republican Barbara Comstock lost her race to Democrat Jennifer Wexton for the U.S. Congressional Tenth District. Comstock had an "A" rating from the NRA. Wexton previously served as a state senator.
The first openly lesbian woman was elected mayor in Florida.
In Key West, former city commissioner Teri Johnston was elected mayor, and is the first openly lesbian woman in the state to be elected to the position. According to the Miami Herald, Johnston won 66 percent of the vote, beating out Margaret Romero. She is also the first woman to serve as mayor in Key West since the 1990s.
The first openly gay governor in U.S. history was elected in Colorado.
Democrat Jared Polis won the governor's seat in Colorado, becoming the first openly gay governor in the history of the United States. He formerly served as a U.S. representative in Colorado. According to CNN, Polis campaigned on universal health care, free early-childhood education, and 100 percent renewable energy in the state.
Texas elected two Latina congresswomen for the first time.
Democrats Sylvia Garcia and Veronica Escobar were just elected the first Latina congresswomen in the state of Texas. Garcia won the seat for the 29th Congressional District, defeating Republican opponent Phillip Aronoff. Escobar won the 16th Congressional District, defeating Republican Rick Seeberger.
The first Native American women were elected to Congress.
Democrat Sharice Davids was the first Native American woman elected to Congress, winning Kansas's Third Congressional District by nine points. She is also the state's first openly gay representative, and the first former mixed-martial-arts fighter. She defeated incumbent Republican Kevin Yoder.
Deb Haaland won a seat in the first district in New Mexico, defeating Republican Janice Arnold-Jones, earning nearly 60 percent of the vote. She is a tribal member of the Pueblo of Laguna, according to Jezebel.
Massachusetts voted in its first black congresswoman.
Ayanna Pressley officially became Massachusetts' first black woman elected to Congress, running unopposed in Tuesday's general election after unseating ten-term Representative Michael Capuano in the state primary. Pressley will be representing the state's 7th Congressional District, the first in Massachusetts where minorities make up a majority of the voting population.
An anti-discrimination bill was saved by voters in Massachusetts.
An anti-discrimination ballot measure was saved by voters in Massachusetts that explicitly protects "transgender people from discrimination in public spaces like restaurants, hotels and hospitals." Freedom for All Massachusetts pushed hard for #YesOn3, which the Trevor Project called a campaign "for fighting to protect the basic rights of transgender individuals across the state."
Alexandria Ocasio-Cortez became the youngest woman ever elected to Congress.
As anticipated, Alexandria Ocasio-Cortez won her election to the House in New York's 14th Congressional District, becoming the youngest woman ever elected to Congress.
A reliably conservative district in Illinois elected the youngest black woman running for Congress this year to the House.
In Illinois' 14th District, Lauren Underwood — the youngest black woman running for Congress this year who has the endorsement of Barack Obama and Joe Biden — beat Republican incumbent Randy Hultgren for the House seat. Underwood is a nurse who had served as an adviser to the Department of Health and Human Services under the Obama administration.
It's an exciting feat; the district is mostly white and solidly Republican, and narrowly favored Trump in the 2016 election. "I learned to be a black woman in this community," Underwood told the New York Times over the summer, after she beat six men in her primary. "This is my home, and the idea that I might not be a good fit is an idea I never gave a lot of consideration to."
A Democrat won in Kansas, beating Kris Kobach.
Democrat Laura Kelly beat Trump-endorsed Republican Kris Kobach in Kansas with a seven-point lead. Kobach was formerly the secretary of State in Kansas, and ran on a right-wing, anti-immigrant platform. Kelly, a former state senator, campaigned on expanding Medicaid and against former governor Sam Brownback's failed economic plans, according to Bloomberg.
The Kentucky clerk who denied gay couples marriage certificates lost her bid for reelection.
Kim Davis, the Kentucky clerk who made national news in 2015 when she refused to sign marriage certificates for same-sex couples, has lost her bid for reelection in Rowan County. She had been briefly put in jail after going against the landmark Supreme Court decision, Obergefell v. Hodges, which made same-sex marriage legal across the country, arguing that it went against her beliefs as a member of the Apostolic Church. Davis was beat by a Democrat, Elwood Caudill Jr., who won with 54 percent of the votes.
A gun control activist beat a Republican incumbent for a House seat in Georgia.
Georgia's Lucy McBath — a gun control activist whose son was shot and killed in 2012 by a racist motorist who said his music was too loud — has won a House seat in the state's 6th Congressional District, one that was represented for two decades by Newt Gingrich. She defeated Republican incumbent Karen Handel in a tight race, with Handel conceding Thursday morning.
"After carefully reviewing all of the election results data, it is clear that I came up a bit short on Tuesday," Handel said in a statement. "Congratulations to Representative-Elect Lucy McBath and I send her only good thoughts and much prayer for the journey that lies ahead for her."
This was McBath's first time running for Congress; a former Delta Airlines flight attendant, she turned to activism after her son's death. McBath said earlier this year that she was inspired to run after witnessing the activism of the students in Parkland, Florida who survived the tragic shooting at Marjory Stoneman Douglas High School.
"I'm still a mother. I'm still parenting," she said. "That's why I believed this was the time to stand up."
A Democrat beat Scott Walker, the Wisconsin governor who has routinely attacked public education.
Scott Walker, the Republican governor of Wisconsin, has lost his reelection campaign to Democrat Tony Evers. Evers challenged Walker's track record on education, which involved threatening public employee unions by pushing forward a bill that denied them the right to collective bargaining.
The result made Wisconsin public school teachers earn significantly less than they did before Walker took office. That's resulted in a teacher shortage in the state, with older teachers retiring early and recent college graduates opting to enter fields other than education. Walker also drastically cut funds for K–12 education.
A GOP congressman who lamented not being able to call women "sluts" lost … to a woman.
Republican Jason Lewis, a representative of Minnesota who is anti-LGBT and has made several lewd misogynistic comments, has officially been unseated — by a married lesbian Democrat named Angie Craig.
Lewis has mocked sexual-assault survivors, questioning how "traumatized" they really are by unwanted advances. In a clip from CNN where he discusses the sexual-assault allegations against Herman Cain, Lewis can be heard saying:
"You'll never get over? It was the most traumatizing experience? Come on! She wasn't raped," Lewis added, using a voice mocking an emotionally distraught woman.
Lewis also said he longs for the days when you could apparently call women "sluts," telling Rush Limbaugh that "it used to be that women were held to a little bit of a higher standard. We required modesty from women. Now, are we beyond those days where a woman can behave as a slut, but you can't call her a slut?"
This post has been updated throughout.