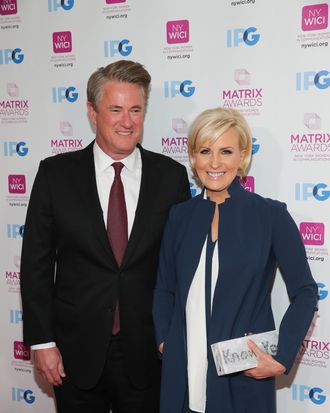 Joe Scarborough and Mika Brzezinski.
Photo: Rob Kim/Getty Images
Singer-songwriter Joe Scarborough and Mika Brzezinski, co-hosts of the sometimes awkward Morning Joe on MSNBC, got married in a secret ceremony on Saturday taking the next step in their relationship, after getting engaged in France last May.
According to Vanity Fair, the couple got married in a small ceremony hosted at the National Archives. They read their vows in front of the Bill of Rights and the Constitution.
They planned it to be during a time when Washington wouldn't be busy, and to accommodate their children's schedules. Last summer, Scarborough announced that the two were going to get married in the spring in Nantucket, but clearly the plans changed.
"We wanted it to be really small and simple and not what you expected from Mika and Joe," Brzezinski told Vanity Fair. "Everything we do is exposed, and everything felt exposed every step of the way, so we want this to be private until it's over. We wanted to recognize it more quietly and have the people who are most important to us around us. And you know, our show is a cocktail party every morning."
In order to keep the nuptials as secret as possible, several precautions were taken. Most of the wedding reservations were made under friends' names, and they didn't send out formal reservations. Mika even departed for her wedding in a robe, to hide her white, tea-length Milly dress which was designed by Michelle Smith. She wore matching white shoes that were designed by Layla-Joy Williams. Mika told Vanity Fair that she plans to change her last name.
They each entered the rotunda of the National Archive while the Arrival of the Queen of Sheba was played by a string quartet. The ceremony itself lasted a total of 15 minutes, and was officiated by Representative Elijah Cummings. They went to a small French cafe called Chez Billy Sud for the reception, and cut a 20-tier cake with about 40 guests. By 10:45 p.m., the wedding was over. Scarborough and Brzezinski will go on a short honeymoon before heading back to their show.