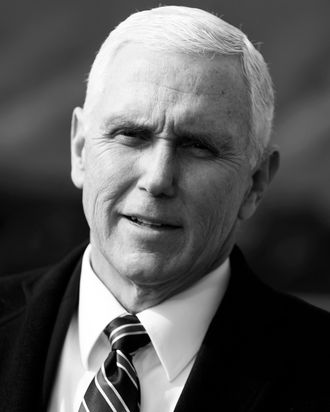 Mike Pence.
Photo: Woohae Cho/Getty Images
With less than a week to go to the 2018 midterm elections, candidates across the country are bringing in reinforcements for the final push to the polls. Notably, Oprah Winfrey decamped to Georgia to knock on doors for Democratic gubernatorial candidate Stacey Abrams. Meanwhile, Abrams's opponent Brian Kemp has … Vice-President Mike Pence.
Pence addressed this during an event in Georgia on Thursday.
"Stacey Abrams is being bankrolled by Hollywood liberals … I heard Oprah was in town today. And I heard Will Ferrell was going door-to-door the other day," he told the crowd. Well I'd like to remind Stacey and Oprah and Will Ferrell — I'm kind of a big deal, too."
On one side, beloved American institutions. On the other, a man with as much charisma as an empty cottage-cheese tub.