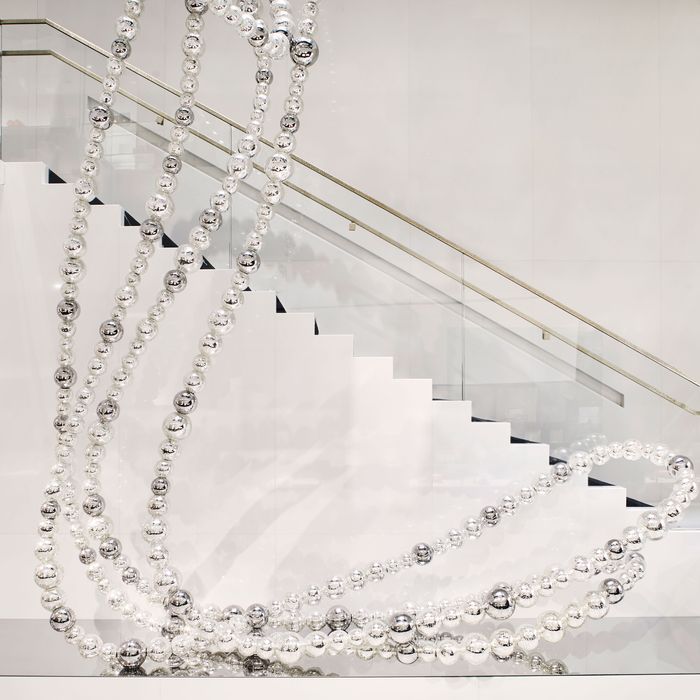 Chanel New York flagship store.
Photo: Courtesy Chanel
Chanel is a company that will spare no expense when it comes to making a statement. And the brand's newly renovated New York flagship on 57th Street is the ultimate proof. Not only is it the largest Chanel boutique in the United States, ever, clocking in at 14,000 square feet with five floors, but it also boasts a 60-foot-tall sculpture in the shape of Mademoiselle Chanel's signature pearl necklace.
Of course, the store also has all the regular-sized shiny double C's that you (or Ariana Grande) could ever possibly want, from Chanel ready-to-wear to accessories, to beauty, fine jewelry, and fragrance — including one scent exclusive to the New York flagship called Les Exclusifs de CHANEL 1957.
For the occasion, the brand has also released limited-edition handbags and wallets with New York–inspired charms, plus a limited-edition Code Coco diamond watch and two one-of-a-kind alligator-skin handbags — all of which might cost you more than a 60-foot-tall pearl necklace.
Designed by New York–based architect Peter Marino, the space feels like something in-between a palace and Mlle Chanel's living room. Even the couches are made of the brand's signature tweed fabric. The fifth floor, though, is really the height of luxury, as it was designed especially for the brand's top clients with its own private elevator. On the walls hang prized artworks by Robert Mapplethorpe, Olafur Eliasson, Jenny Holzer, Peter Dayton, and a portrait of Chanel by Y.Z. Kami. Like we said: Every inch of the space is expensive.
The new Chanel boutique opens Thursday with the arrival of the cruise 2019 collection.