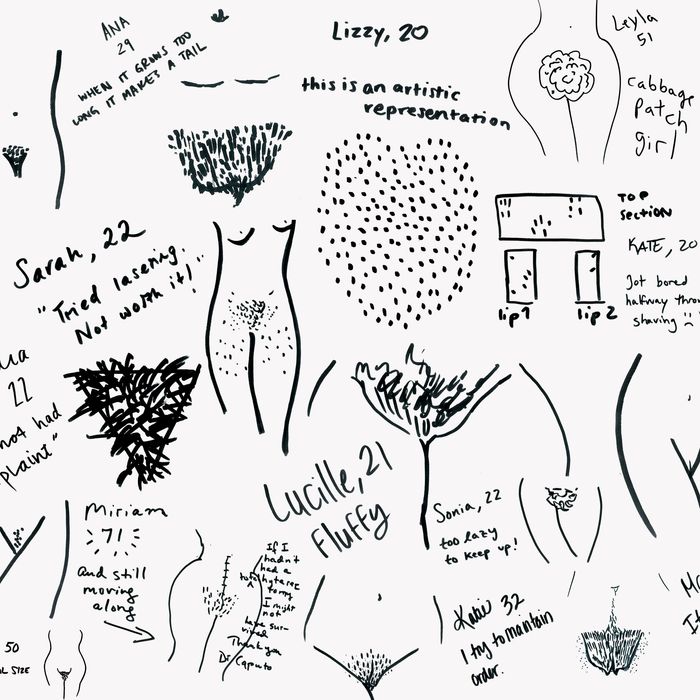 What are people doing with their pubes now? Unlike (head) hairs, or clothing, other people's pubic grooming choices aren't something we see every day. Are we still waxing our mounds into balloon-smooth oblivion? Are we sporting Pomeranian-sized poofs between our legs? Do we even care anymore?
To find out, we asked women to draw their pubes. Over the course of three fall afternoons in Washington Square Park, armed with two sketchbooks and a black marker, we spoke to 35 women between the ages of 18 and 71, asking them to draw their current bush situation and write a few words about it.
While we were, understandably, shot down a few times, most people were happy, even eager to participate. Some drew in silence; others were chatty. Some drew quickly and furtively, slamming the book shut when they were done; others took their time, carefully sketching each curly swoop of hair, precisely dotting every bit of stubble, tearing out pages and starting again, checking with their partners to see if their rendition was accurate. Some loved their pubes; some were annoyed by them. Some asked if they could draw their boobs instead.
Women told us about their depilatory nightmares, and their health, and their evolving relationships with their bodies. They told us that they shaved and lazered and waxed and let their bushes grow wild and free, or some combination of all of the above. The more people we talked to, the more it became clear: Women are doing whatever the hell they want.