Bloody Mary tartines to start, duck-confit hash for the main course, and other "morning" meals to serve — no matter the time of your reception.
Bloody Mary Tartines & Grain Bowls
Appetizer (L): Puff-pastry tartlets with tomato wedges, edible flowers, and sea salt.
Main (R): Quinoa with carrots, avocado, beets, butternut squash, radishes, zucchini, and edible farm flowers.
Catered by Marcey Brownstein Catering & Events.
Ube French-Toast Soldiers & Truffled Tacos
Appetizer (L): Ube french-toast soldiers with dulce de leche and figs.
Main (R): Fresh flour tortillas with soft scrambled egg and black truffle.
Catered by Lalito.
Caramelized-Banana Cups & Cap'n Crunch Chicken and Waffles
Appetizer (L): Caramelized-banana cups with Nutella on puff pastry.
Main (R): Cap'n Crunch chicken and waffles with sweet-potato–sunchoke purée, sliced radish, and honey Sriracha.
Catered by Robbins Wolfe Eventeurs.
Caviar-and-Avocado Toasts & Fall-Vegetable Hash
Appetizer (bottom): Caviar-and-avocado toasts with Pointy Snout caviar, radish, and microgreens on multigrain bread.
Main (top): Fall-vegetable hash with butternut squash, Tuscan kale, oyster mushrooms, prosciutto di Parma, and soft-boiled egg.
Catered by Woldy Kusina.
Goat Cheese Gougères & Duck Confit Hash
Appetizer (L): Goat-cheese gougères with fig compote.
Main (R): Duck-confit hash with fingerling potatoes and crispy shallots.
Catered by Upper Story by Charlie Palmer.
Buttermilk-Biscuit Bar & Shrimp and Grits
Appetizer (L): Buttermilk-biscuit bar with sausage gravy, homemade jams,
honey butter, and honey.
Main (R): Shrimp and grits with andouille sausage.
Catered by Pies 'n' Thighs.
BK Appetizing & Strawberry-and-Ricotta Crostini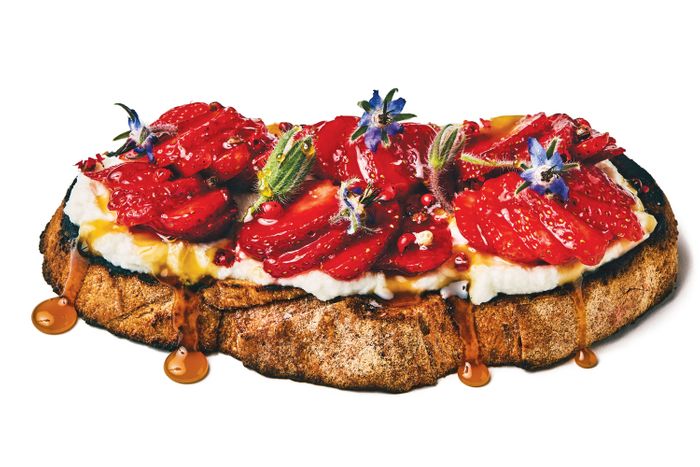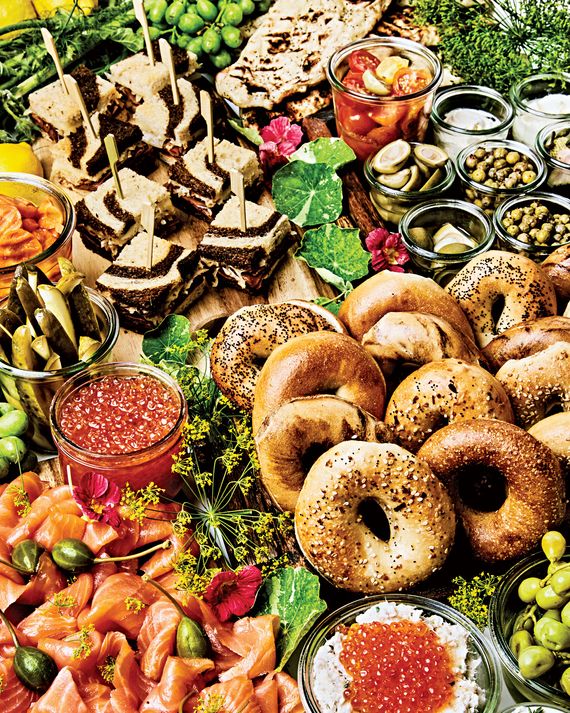 Appetizer (L): BK appetizing with bagels, smoked salmon, whitefish salad, paddlefish roe, smoked-beet-pastrami Reubens, truffled duck-liver mousse,
and market-vegetable pickles.
Main (R): Strawberry-and-ricotta crostini with edible flowers and sorghum syrup.
Catered by Patina Events at Brooklyn Botanic Garden.
Food styling by Jamie Kimm.
*This article appears in the winter 2019 issue of New York Weddings.
More From New York Weddings
See All