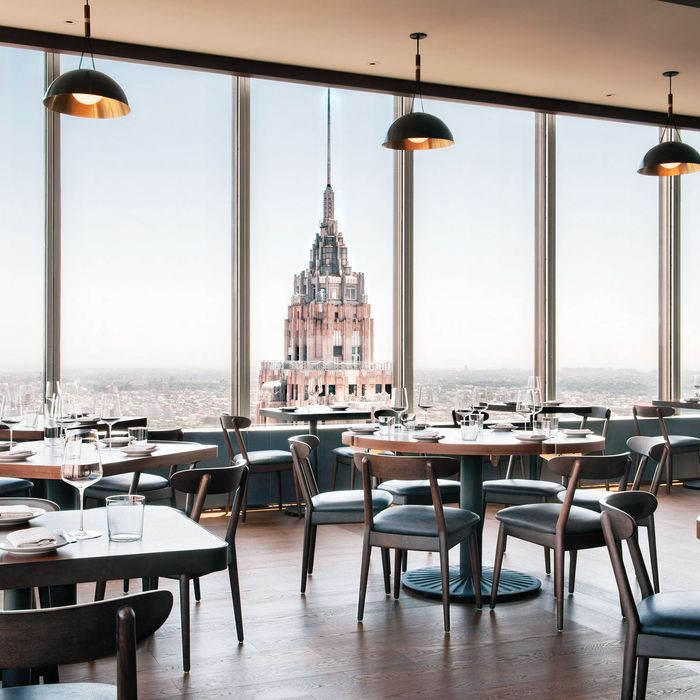 Bay Room.
Photo: Emily Andrews
Bay Room
Location: Financial District
Capacity: 520 seated, 580 standing
The first dedicated event space from Danny Meyer's Union Square Hospitality Group, this panoramic spot opened its doors in July, sharing a whopping 38,000 square feet on the 60th floor with its sister restaurant, Manhatta. Views from the top — spanning midtown, the Statue of Liberty, and the Brooklyn Bridge — are all equally dizzying, especially after a few glasses of Champagne, but 100-plus pieces of curated art should provide an interior focal point until your equilibrium returns. While Manhatta's design centers on warm walnut, stone, and bronze, Bay Room's more neutral backdrop (copious natural light by day, miles of twinkle lights by night) complements most color schemes. The menu, by chef David Brinkman of Union Square Events, features hearty options — like warm Époisses-and-Brie tartlets with pickled grapes and chives and an autumn potpie with root vegetables, farro, and kale — all rotating seasonally. Price upon request. 28 Liberty St.; 212-230-5788.
West Edge
Location: Chelsea
Capacity: 230
Floor-to-ceiling 17-foot windows face the Hudson River and the High Line at the latest West Side space from Creative Edge Parties. A former Nabisco factory and the birthplace of the Oreo (the floors are original, even if the baking smells have dissipated), the 10,000-square-foot loft space occupies the third floor of Chelsea Market — fully customizable arrangements for ceremonies, cocktail hours, and seated dinners are all within eyeshot of stunning waterfront sunsets. Outside vendors are allowed, but, no surprise, all food and beverage service is handled in-house, painstakingly planned for optimal "culinary flow" by Creative Edge, which also dreamed up the around-the-world menu — and something called a "salad wall" — for the New Orleans wedding of Serena Williams last fall. Price upon request. 88 Tenth Ave.; 646-564-2100.
Broken Shaker at Freehand New York
Location: Flatiron
Capacity: 200 standing, 156 seated
Gabriel Orta and Elad Zvi opened the first Broken Shaker at Freehand Miami in 2012. NYC's 18th-floor rooftop outpost borrows liberally from the original location's bohemian, island-inspired interior — meaning mismatched, colorful furniture; wicker lighting; and lots of greenery. Available for full or partial buyout and ideal for laid-back receptions, the space offers four indoor and outdoor bars to ensure tropical vibes all year long, while a wrap­around terrace provides 360-degree views of the city. Unfussy shared plates highlight Caribbean and Mediterranean influences (try the arepas with avocado salad), but, true to Broken Shaker's pedigree as one of the best hotel bars in America, the bigger stars of the evening are the cocktails, like the Curry in a Hurry, which mixes bourbon and baked-apple bitters. Price upon request. 23 Lexington Ave.
Elsewhere
Location: Bushwick
Capacity: 1,800, 500 rooftop
The team behind now-defunct Williamsburg hangout Glasslands opened this independent-music venue and art space last October in 24,000 square feet of converted ware­house space. A hot spot for late-night discos and raucous DJ sets, Elsewhere also makes for a versatile wedding venue: Four distinct areas can be rented separately or in combination, including large and small performance rooms with state-of-the-art audio equipment and ample dance floors (one of the primary perks of renting a concert venue). Those who don't want to confine the party to dark rooms can set up on the rooftop, open May through September, which features shade sails, festoon lights, and expansive views of the Manhattan skyline. Outside vendors are a must, but instead of cramming caterers into Elsewhere's small prep area, consider parking a couple of food trucks in the private courtyard. Weekend minimums range from $500 an hour for partial-loft rental to $65,000 for full-rooftop buyout. 599 Johnson Ave.
Castell Rooftop Lounge
Location: Midtown
Capacity: 120 indoor-outdoor, 80 indoors
Recently opened on the 21st floor of the AC Hotel Times Square, this lush rooftop oasis takes its name from both the Catalan word for "castle" and the Catalonian tradition of building human towers up to 40 feet high. While Castell can't allow that type of celebratory formation to teeter precariously over the Garment District (stick to the hora, please), the reference does say something about the lounge's commitment to elevating your party. Stage a ceremony indoors in the fireplace lounge, among the plush banquettes and modern design, then let the crowd spill out onto the open-air terrace with its creeping ivy designed to mimic Spanish architectural vaults. Enjoy palomas on tap — that's Tequila Cabeza, salted grapefruit, club soda, and lime — or explore the surprisingly extensive martini list. Food options include Mediterranean-inspired small plates, antipasto salads with chorizo and Ibérico ham, and larger entrées like flat-iron steak with crispy potatoes. Price upon request. 260 W. 40th St.; 929-284-3741.
The Box House Hotel
Location: Greenpoint
Capacity: 293
Located in an old door-and-window factory, this 130-room boutique hotel on the northern tip of Greenpoint will appeal to couples who prefer an all-inclusive experience in an all-in-one space. The penthouse, with its wraparound balconies, makes an ideal spot for pre-ceremony photography or bridal prep, after which you can head up to the 10,000-square-foot heated rooftop — featuring a fully retractable awning, string lighting, and a living green wall — for a ceremony and reception framed by 360-degree views of Manhattan, Brooklyn, and Long Island City. From tables and linens to china and cutlery to family-style catering, the Box House has it covered, right down to the Mast Brothers–chocolate pots de crème for dessert. When the night tapers off, have a low-key after-party among the barstools, pendant lighting, and Moroccan tiles of Brooklyn Lantern, the hotel bar. Fall/winter weekend rental from $4,500. 77 Box St.; 718-383-3800.
Park Slope Library
Location: Park Slope
Capacity: 250
Library-set weddings introduce certain limitations — open flames are frowned upon, for instance — but the early-20th-century allure of this Carnegie branch (Classical Revival–style redbrick-and-limestone exterior, ornamental mosaic floors, barrel-vaulted opalescent-glass ceilings) makes up for the fact that you can't actually use its green-glazed tile fireplace with reclaimed friezes. You can set your ceremony against that fireplace, however, or consider the library's latest addition, a community garden adjacent to 9th Street. Low bluestone benches, trough planters, and available tenting lend open-air charm to smaller nuptials, casual receptions, or a breezy autumn cocktail hour before you head back in for dinner and dancing. Outside vendors are essential, but appropriately the library has a number of helpful references. Preferred collaborators include Purslane Catering, Bourgeon floral design, and even Juilliard for your classical-accompaniment needs. $5,000 flat rate for eight hours, including three hours for setup and breakdown. 431 Sixth Ave.; 718-230-2160.
Gather Greene
Location: Coxsackie, N.Y.
Capacity: 250 seated
Flanked by the Catskills and the Berkshires and stretching across 100 acres of rolling hills, this brand-new nature retreat and event venue has something for everyone — especially your wedding photographer, who's sure to be inspired. The Pavilion, a 4,000-square-foot indoor-outdoor structure with 28-foot arched ceilings and wood-screen walls, makes for an ideal ceremony spot, but with so much open space, spreading out is inevitable: Explore the fields, warm up by the firepit, toss a game of cornhole near the shale pond, and swing by the Boulder Bar, a 20-foot-long slab of rock, for a cocktail and some hors d'oeuvre. And unlike at some other remote weddings, guests — who will camp in one of 17 cozy cedar cabins — won't have to wonder how to fill the weekend downtime. Group crafts and extracurriculars include cheese-making, scent blending, and weaving and macramé. The possibilities (for DIY wedding gifts) are endless. From $11,800, full two-night cabin buyout required. 176 Levett Rd.; 262-448-3683.
The Greenhouses
Location: Wallkill, N.Y.
Capacity: 225 seated
Owners Doug Posey and Sally Watkinson had been hosting weddings for a couple of years at their upstate B&B, a Dutch farmhouse dating back to the 1740s, when inspiration struck once more: The property's dilapidated flower nursery would make a striking spot for nuptials. Freshly rebuilt, the 3,000-
square-foot greenhouse with slate floors, potted plants, and central heating functions as a ceremony site or banquet hall — think long farm tables, bentwood chairs, and catering by local favorite the Village TeaRoom — should couples choose to incorporate the all-white barn or open-air courtyard with arbored pergola into their event staging. No matter the setup, guests will enjoy sweeping views of Hudson Valley farmland, Shawangunk Ridge, and neighboring Minnewaska State Park Preserve. An added perk for those whose invite list includes four-legged friends: From the 20 guest rooms to the grounds, the Greenhouses is entirely pet-friendly. From $8,000 to $12,000 with full-property buyout; catering from $135 a person. 2188 and 2187 Bruynswick Rd.; 845-895-3440.
The Amsterdam
Location: Rhinebeck, N.Y.
Capacity: 130
Situated just off the main street in one of the Hudson Valley's most charming villages, this elevated farm-to-table restaurant has hosted only a handful of weddings since its opening in the spring of 2017, but husband-and-wife team Howard and Chris Jacobs are prepared for the inevitable uptick. New executive chef Alex Burger, a Bar Boulud alum, creates seasonal, customizable banquet dinners heavy on homemade pastas, local vegetables, and Burger's award-winning charcuterie. Set a seated reception in the Dutchess, a brick-fireplace–flanked private dining room upstairs, or take over the Amsterdam's backyard, a secluded spot shaded by magnolia and chestnut trees, complete with a firepit, Adirondack chairs, and a bocce court. Craft cocktails are inventive but not ridiculous — the Paloma-ish, for example, is a grapefruit, reposado-tequila, and rosé concoction—but as the Jacobses' previous home base was in Northern California, the wine list is hard to top. Family-style dinners from $55 per person, plated dinners from $75 per person. 6380 Mill St.; 845-516-5033.
Paper Factory Hotel
Location: Long Island City
Capacity: 261
Only 20 minutes away from midtown, this 122-room modern-industrial hotel in the footprint of an old (you guessed it) paper factory offers the same boutique style you'd get from a venue in lower Manhattan — plus a skyline vantage you'd never find in Soho. The Rose Room provides ample lower-level party space and funky, photo-worthy design quirks, like mismatched lighting fixtures and a 30-foot column of vintage books, while the outdoor area can be tented even into the colder months, when a combination of heat lamps and hot chocolate should help keep everyone cozy. Paper Factory handles bar packages and casual fare (fact: Most weddings lack pizza; not here), though the hotel welcomes outside catering, too — like the upscale outfits Thomas Preti, nearby, and Manhattan's Elegant Affairs. The gazebo and terrace supply plenty of room to walk off the meal. From $6,000. 37-06 36th St.; 718-392-7200.
Troutbeck
Location: Amenia, N.Y.
Capacity: 200
High-profile visitors to this mid-18th-century estate and tavern have included Mark Twain, Henry David Thoreau, and Ralph Waldo Emerson, something all frat brothers should consider for the best-man toast. The completely renovated homestead's vibe is remarkably relaxed, from the ivy-strewn walled garden to the tin-roofed event barn to the copper-accented 3,500-square-foot ballroom with four French doors that open out to a large stone patio, towering sycamores, and Dunham Creek. Menus are locally sourced from nearby farms and orchards, with plenty of customizable options from start (say, a rehearsal-dinner clambake) to finish (s'mores by the fire and homemade French macarons). From $3,500 for intimate "elopements" to $75,060 for full-property buyout, including 36 guest rooms. 515 Leedsville Rd., 845-789-1555.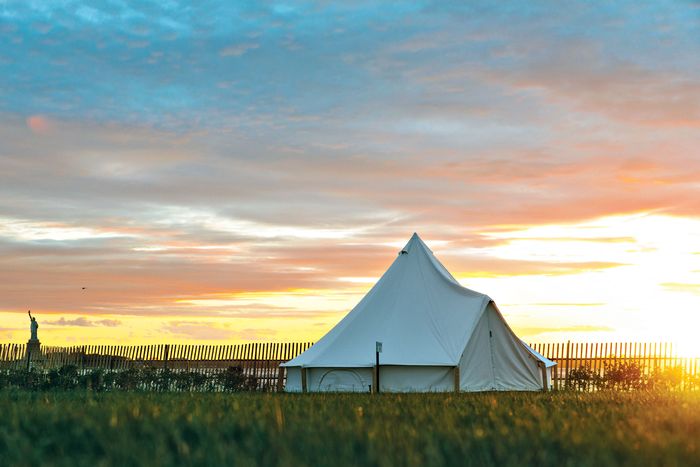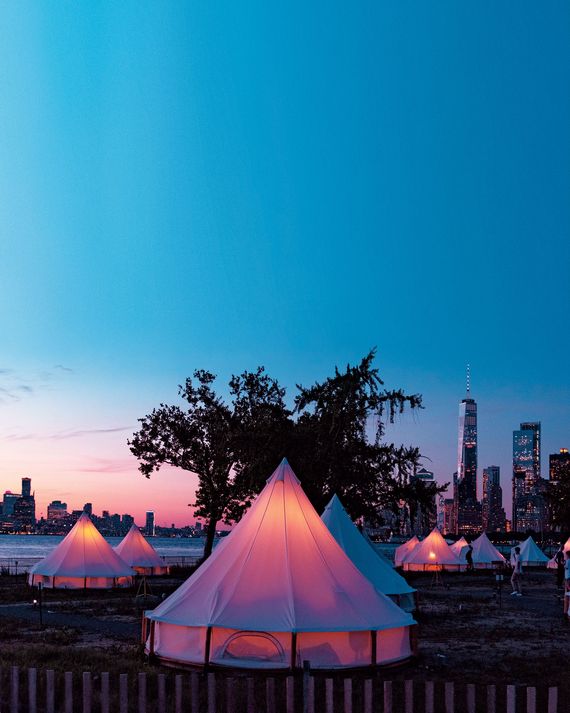 Collective Governors Island, a New York City Retreat
Location: Governors Island
Capacity: 200
In July, luxury outfit Collective Retreats set up camp (or should we say glamp?) on the car-free, ferry-accessible island in New York Harbor, a decidedly urban addition to its seasonal outposts near Yellowstone, Vail, and the Texas Hill Country. Although the outdoorsiest among us won't exactly find the view of the Statue of Liberty peak wilderness, the wedding weekend can certainly involve a lot of pseudo–roughing it. The high-pitched canvas guest tents — 37 in total — range from cushy (wood floors and woven rugs) to downright decadent (over-bed rope chandeliers, 1,500-thread-count linens, in-suite bathrooms), while sprawling common spaces like the Great Lawn and the Three Peaks Lodge provide ideal spots for cocktails, dancing, and seated receptions. Collective's "ferry to flame" menu rotates seasonally, but expect appropriately savory, locally sourced options like slow-roasted chicken, seared scallops, and other dishes almost certainly not cooked on a crackling campfire. Price upon request. 10 South St.; 970-445-2033.
Foxfire La Colina
Location: New Hampton, N.Y.
Capacity: 150
The owners of Foxfire Mountain House have added a second property to their wedding-worthy portfolio, this one a Spanish-style villa built in 1936 by the great-grandson of former secretary of State William Seward. Set on a private 47 acres, the home features wrought-iron gates and railings, stucco fireplaces, beamed ceilings, a tile roof, and a wraparound bluestone patio perfect for sunset services and tented receptions. Views of Mountain Creek and the surrounding black-soil farmland range from expansive to never-ending, so the toughest decision may be where to stage photos. La Colina offers a preferred-vendors list but gladly handles catering in-house with a locally sourced menu customized to fit everyone's tastes. Plus, in-house florist Emily Theobald creates seasonal arrangements, centerpieces, and bouquets from locally grown flowers, including pale dahlias snipped on site. Price upon request. 2707 Route 17M; 845-688-2500.
Celestine
Location: Dumbo
Capacity: 120
Designed to evoke 1960s Beirut, this year-old glass-box restaurant — owned and operated by Julian Brizzi (Rucola, Grand Army) and Noah Bernamoff (Mile End, Black Seed) — offers bridge and skyline views that rival the River Café's. To put it another way, any closer to the East River and you'd be in the East River. Keep your party intimate by reserving dining space for up to 25; rent the riverside terrace for a bit more room to mingle; or claim the natural light, cascading greenery, and pigmented-tile interior all for yourself with a full-property buyout. Chef Garett McMahan (Perilla, Bouley) crafts family-style feasts and heavy hors d'oeuvre, all inventive takes on Mediterranean staples, from crispy falafel with garlic scapes and raspberries to lamb crépinette with labneh and bulgur. As an of-the-moment alternative to the standard Champagne toast, try raising a glass of orange wine — Celestine's well-curated cellar features several from regions in Greece and Slovenia. From $8,000 to $25,000 for buyouts. 1 John St. 718-522-5356.
Special thanks to Tzo Ai Ang at Ang Weddings and Events, Fallon Carter at Fallon Carter Events, Sarah Glick at Brilliant Event Planning, Xochitl Gonzalez and Kait Rovnyak at AaB Creates, JoAnn Gregoli at Elegant Occasions by JoAnn Gregoli, Melissa McNeeley at Events by Melissa McNeeley, Roey Mizrahi at Roey Mizrahi Events, and Amanda Savory at Bespoke Moments.
*This article appears in the winter 2019 issue of New York Weddings.
More From New York Weddings
See All