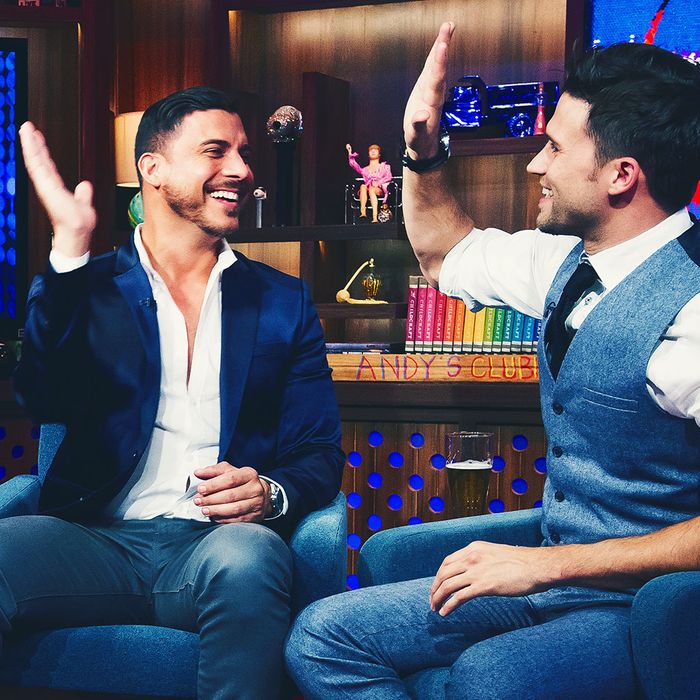 Oh noooo.
Photo: Bravo/NBCU Photo Bank via Getty Images
As a Vanderpump Rules fan, I've been long-dreading the moment when the cast decides to procreate. Selfishly, this is because I'd like to see them galavant without responsibility forever. Unselfishly, this is because I don't want to watch all of the pregnant girls sit in someone's tiny apartment sipping mocktails while the boys go to Vegas on a "future dads" trip. (And that is the least grim outcome I can imagine.) Alas, time waits for no man, the future is coming, and, allegedly, it will bring Vanderpump Babies.
Jax tweeted about babies recently, reports E!. He said: "I gotta be honest, I can't wait to take my kids trick or treating and/or stay home and pass out candy. It's the dream!! Very soon!!!" Here it is, if you don't believe me:
Incredible that Jax is a more lucid tweeter than the president of the United States, but let's not think about it. Later, E! asked him about the tweet while he attended "the House of Sillage by Nicole Mather grand opening event at South Coast Plaza" (sure), and he said this:
"Oh yeah, absolutely. [Halloween] was kind of my going away. I'm excited. We're moving onto that next phase of my life so I'm excited."
A very Jax choice of pronouns with, "we're moving onto the that next phase of my life." Heh. Also: Oh no.
E! asked Tom Schwartz about babies, also, at whatever this event was. He said, "I love kids. I consider my dogs kids but yeah, I'm ready for kids." And then Jax said, "According to Katie last night and I quote, 'We're having babies at the same time.' She wants to have kids when we do."
Oh no. Katie please take into consideration the fact that Schwartz's answer was in fact not "yes" but instead "I consider my dogs my kids." Katie, please, I only want the best for you!!! Brittany!!!!!! You too!!!!!!!!!!!!! We're moving onto that next phase of my life!!!!!!!!!!!!!!!!!!!!!!!!!!!!!!