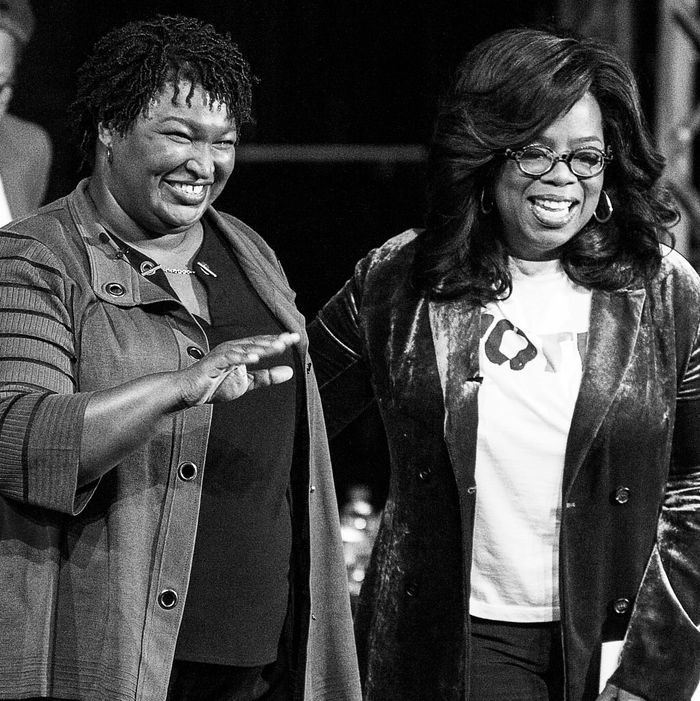 Stacey Abrams and Oprah.
Photo: Alyssa Pointer/AP
Oprah is out canvassing for Stacey Abrams, the Democratic candidate for Georgia governor. It's a big deal, as the mogul rarely gets involved in politics save for a few key elections. On Thursday, she arrived in Georgia to knock on doors and appear at town halls with Abrams's campaign.
"I'm here today for Stacey Abrams," Oprah said at one town hall. "I am here for the men and women who were lynched, humiliated, who were discriminated against, who were suppressed, who were repressed, and oppressed, for the right for equality at the polls."
"And I want you to know that their blood is seeped into my DNA," she continued. "And I refuse to let their sacrifice be in vain."
With the enthusiasm and passion that Oprah is known for, she asked Georgians about their early voting plans, and if they were prepared to get out to the polls for Abrams.
When she began knocking on doors on Thursday afternoon, people were as starstruck as you'd expect. In a video Oprah posted to Instagram, the woman who answered her door took a second to register that it was in fact Oprah on her porch. Then she gasped.
"Oh my God!" the woman exclaimed. "Hi, Oprah!"
Oprah surprised women all day, and worked with the Abrams team to get trained on how to make sure people were going to the polls. Oprah said that this is her first time canvassing for any candidate — her support comes as Abrams and her Republican opponent Brian Kemp are close in the polls, and statewide complaints about voter suppression of black voters are reported.