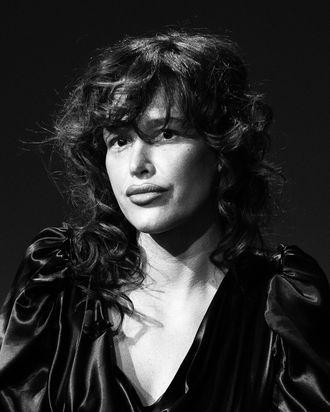 Actress Paz de la Huerta.
Photo: Mike Pont/WireImage/Getty Images
Just over a year after coming forward to accuse Harvey Weinstein of raping her twice, Boardwalk Empire actress Paz de la Huerta has filed a $60 million lawsuit against the disgraced Hollywood mogul, who she claims also ruined her career.
According to court documents, de la Huerta first met Weinstein at the New York City premiere of Blue Valentine on December 7, 2010. In the lawsuit, she claims that at the after-party at the Boom Boom Room, Weinstein offered to give her a ride back to her Tribeca apartment, and then "insisted on coming up to de la Huerta's apartment to avoid discussing business and personal matters in the public lobby." Once upstairs, the suit claims that Weinstein raped de la Huerta after he threatened to ruin her career.
In the weeks following, court documents say, Weinstein called and "would tell [her] that he was waiting outside of her apartment building in his vehicle or in the lobby of the building waiting for her." On December 23 of that year, Weinstein allegedly told de la Huerta he was going to her building. According to the suit, de la Huerta decided to take the opportunity to confront him, but got very drunk beforehand "out of fear and depression." When he arrived in her lobby, Weinstein "hushed her" and coerced her into going to her apartment, documents claim. There, he "again forced himself on [her] by performing unconsented vaginal intercourse through overpowering physical force," while she was "unable to consent to any disputed sexual encounter."
De la Huerta claims that she saw Weinstein once again in 2011 in his Four Seasons hotel room, where he opened his robe and invited her to have a threesome, per the lawsuit. She says she rejected him, and that she believes this in part led to her getting fired from Boardwalk Empire. In total, she estimates that Weinstein has cost her $55 million over her career.
Per TMZ, de la Huerta is suing Weinstein for assault, sexual battery, and emotional distress; she also named the Four Seasons as a defendant. In response to the lawsuit, Weinstein's criminal defense attorney, Ben Brafman, said it comes from an "unstable personality with a vivid imagination." Weinstein has denied all allegations of nonconsensual sex.
In the past year, the disgraced mogul has been indicted on rape and criminal-sex-act charges, as well as been sued by a growing number of actresses: Emma Loman, Ashley Judd, and a number of women who have chosen to remain anonymous. Ten women, some of whom are in Hollywood, have also joined a class-action lawsuit against him.