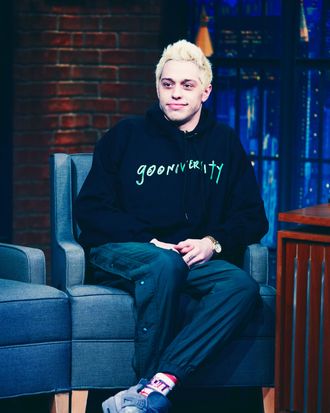 Pete Davidson.
Photo: NBC/NBCU Photo Bank via Getty Images
Pete Davidson has reportedly pulled a Saturday Night Live skit where he joked about his recent breakup with Ariana Grande.
On Thursday night, SNL dropped its video promo for Saturday night's episode, in which Davidson asks musical guest Maggie Rogers if she wants to get married. When she declines, Davidson responds "0 for 3" — a line the that comedian clearly thought would land, given he and and Grande called off their passionate four-month-long engagement just a few weeks back. Ariana seemed to respond in a series of rightfully) annoyed subtweets, which she deleted within a few hours.
According to TMZ, the couple had agreed to not publicly discuss their breakup — an agreement Davidson broke at a charity show in late October. While Grande reportedly felt "betrayed" after the first instance, after the video promo, she couldn't stay silent about her frustration.
"For somebody who claims to hate relevancy u sure love clinging to it huh," she wrote in one of her now-deleted tweets. "thank u. next."
Per TMZ, Davidson heard that Grande was upset with him, and consequently decided to pull the skit — a request that Lorne Michaels granted.
You'd think Davidson would know better than to fuck with Ariana.