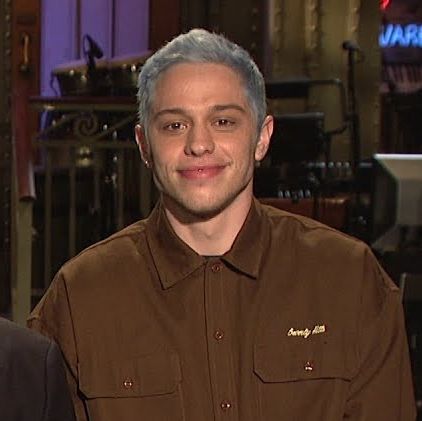 Maggie Rogers, Jonah Hill, and Pete Davidson.
Photo: NBC
Jonah Hill's return as the host of Saturday Night Live is just two days away now, and there's a brand-new promo to get you excited. In the latest clip, Hill is joined by musical guest Maggie Rogers and cast member Pete Davidson, who you may have seen in the news once or twice over the past handful of months. Davidson decides to break the ice with Rogers in a very Pete Davidson way: "I'm Pete. Do you want to get married?"
Next up at SNL are Liev Schreiber and Lil Wayne, who will serve as host and musical guest, respectively, on November 10. Watch below.
Update 12:16 a.m.: Not long after Davidson asked this week's SNL's musical guest to be his bride, Ariana Grande posted a series of since-deleted tweets that seemed to be acknowledging, and admonishing, her ex's choice of jokes. First came:
"for somebody who claims to hate relevancy u sure love clinging to it huh"
Which was followed by:
"thank u, next"
Grande also quote-tweeted this:
And seemed to suggest she was not pleased with Davidson:
"hell naw tho"
Then she issued a directive for further behavior:
"k that's the last time we do that"
Before closing with an update on her studio status:
"love u finishing my album"
With all those posts now deleted, the most recent visible tweet on Grande's timeline is a clip of her recent BBC One performance. So make sure you have your notifications on after this week's SNL, everyone!