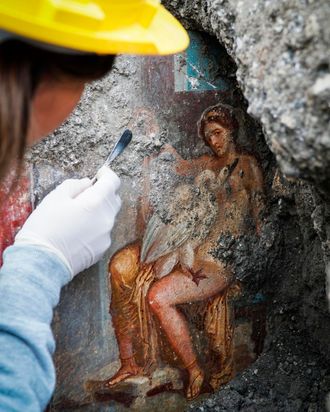 "Leda and the Swan."
Photo: Cesare Abbate/AP/REX/Shutterstock
Long before the Hot Duck, there was the ancient Sensual Swan.
Last Friday, in the Regio V area of Pompeii, archaeologists stumbled upon a precious artifact in what used to be someone's bedroom: an ancient fresco of the erotic scene from the myth of Leda and the Swan, which was buried in lava nearly 2,000 years ago, in the eruption of Mt. Vesuvius.
The artwork depicts the Greek god Zeus in the form of a hot swan, seducing the king of Sparta's wife Leda. In the opinion of the Pompeii archaeological park director, the sexual encounter shown here was consensual.
"This painting, compared with others of Pompeii in the Roman world, is characterized by a pronounced sensuality," Massimo Osanna said in a video. "It's presenting Leda welcoming the swan into her lap."
And apparently, whoever owned this fresco was no vanilla sex-doer. Per the Pompeii archaeological park website, in the room next to the one in which the swan art was uncovered, archaeologists discovered another erotic painting: one of the Roman fertility god, Priapus, weighing his giant dong. (Clearly, Priapus would make use of the Masculine Toilet.)
No one tell the Hot Duck that he wasn't the first bird to captivate an entire city.