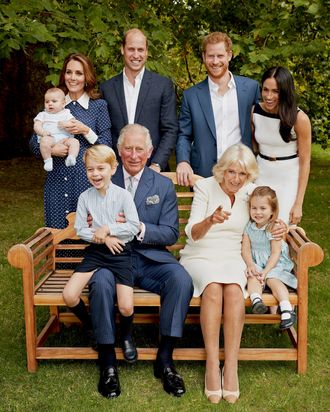 Prince Charles and his royal family.
Photo: Chris Jackson/Clarence House via Getty Images
Prince Charles has been celebrating his 70th birthday in a very heir-to-the-throne way: with an apparent nonstop public-relations campaign to try to get us all to like him. The latest likability bid seems to come in the form of photos published in the Sunday Times, which show the future king playing with his most elusive royal grandchild, Prince Louis.
The positive publicity push became apparent weeks ago, as excerpts of an upcoming biography by royal reporter Robert Jobson — Charles at Seventy: Thoughts, Hopes, and Dreams — began to be published in the British tabloids. The excerpts, as noted by Lainey Gossip, not-so-subtly shaded Prince Charles's sons — Prince William was deemed "grand" in the book, and Prince Harry was called out for a pre-wedding temper tantrum — and painted the future king as a hard-working guy.
Then came the Vanity Fair cover, which further suggested that Prince Harry and Prince William don't work as hard as their dad. The article managed to make Prince Charles seem kind of chill, and his love story with Camilla Parker Bowles was portrayed as rather romantic (while notably glossing over the reported TamponGate conversation).
That was followed soon after by outtakes of an official family portrait (one of which can be seen above) in time for Prince Charles's actual November 14 birthday, taken by photographer Chris Jackson. Stodgy family portraits marking significant events — i.e., royal weddings — aren't unusual, but the fact that the palace released outtakes of this shoot, in which the grandkids (Prince George, Princess Charlotte, and Prince Louis) are laughing with their grandfather and step-grandmother, and Meghan Markle almost bent over laughing, is a rare occurrence. The images made them look like a shockingly normal family, and the heir like a sweet ol' grandfather.
Now, the latest step in the likability campaign is an image of Prince Charles laughing as he cuddles up with an adorable Prince Louis. The pic graces the cover of the Sunday Times magazine — with the headline "Grandpa Wales."
Trotting out an elusive royal baby who had not been seen publicly since his christening is a bold move; what better way to get the world to forgive a man's personal failings than by showing him as a sweet grandfather who just wants to cuddle up with his grandkids while also working harder than his children? We can only assume all this effort will help with Prince Charles's likability ratings, but there are just some things we will never forget.