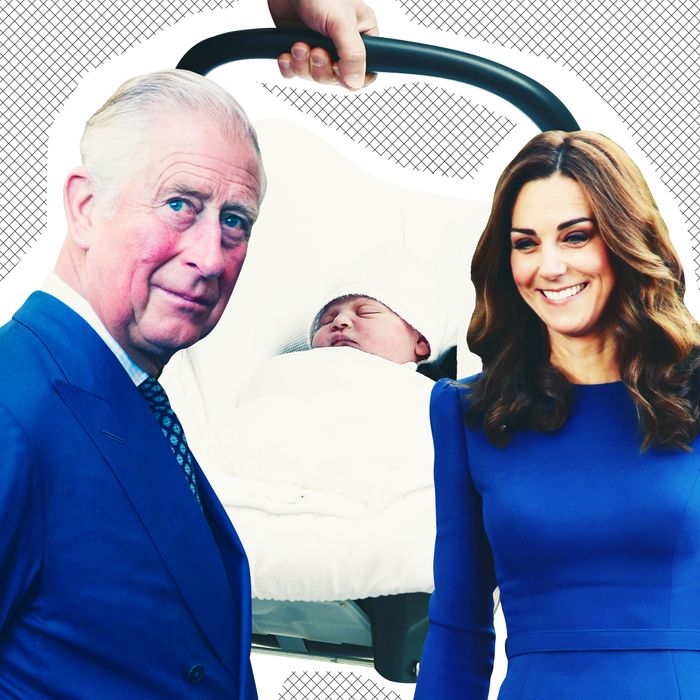 Prince Charles, Prince Louis, and Kate Middleton.
Photo: Getty Images
Well, well, well. The most elusive royal family member, 6-month-old infant Prince Louis, has finally been spotted again. This time, he popped up in a new BBC documentary celebrating his grandfather Prince Charles's 70th birthday (the latest in a big PR push to get us all to pay attention to the future monarch's milestone). Oh, and the mysterious baby's mom (Kate Middleton) was there, too.
I can't really say I'm that surprised that Prince Louis chose the BBC's Prince, Son and Heir: Charles at 70 as an avenue to briefly appear in the public eye for the first time since his Christening, which happened way back in July. The actual child rebelliously opted to skip Princess Eugenie's wedding to Jack Brooksbank in October, presumably because as the son of other future king, Prince William, he is holding out for the big-time. So when better to emerge than in a documentary about how Prince Charles will also be king?
In true dramatic fashion, Prince Louis doesn't pop up in the documentary until close to the end, at a time when his dad — Wills — is chatting about how much he'd like his dad — Charles — to spend more time with the kids. Then, blamo, there he appears: in the form of a picture. Look:
Prince Louis is being held up by Kate Middleton, and holding hands with his grandfather, in the previously unseen picture. His face, to be fair, is a bit obscured. But nevertheless, he's still the star of this photograph — and clearly, also the star of the entire documentary.
I can't wait to see where this elusive baby will pop up next.