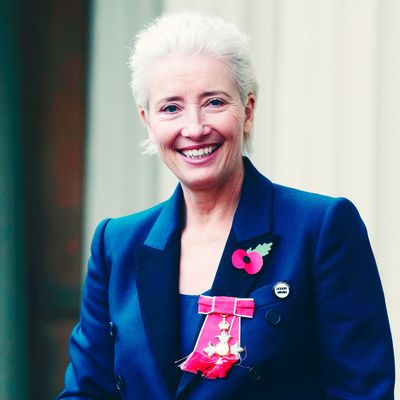 Emma Thompson.
Photo: STEVE PARSONS/AFP/Getty Images
On the blessed day of her Damehood ceremony, actress and official Dame Emma Thompson just wanted to share one innocent, joking kiss with Prince William — a request that he denied, for some reason.
At Buckingham Palace on Wednesday, the 36-year-old prince presented the honor to the 59-year-old, Academy Award–winning actress, who was looking good as hell in a teal trouser suit. As she approached the prince, Thompson apparently asked if she could smooch him, which she revealed after the ceremony.
"I love Prince William," she said. "I've known him since he was little, and we just sniggered at each other. I said, 'I can't kiss you, can I?' And he said, 'No don't!'"
Thompson handled the rejection with grace — it was a big day! Five months ago, the Queen of England named her a dame in her Birthday Honours List; today, it became official.
Apparently, William's reasoning behind the rejection was sweet: "He said, 'This day isn't about me, it's about you,'" Thompson said.
Imagine Thompson asking to kiss you, and saying no! But in William's defense, maybe he's still recovering from the time when she declared that dancing with his dad, Prince Charles, is "better than sex."