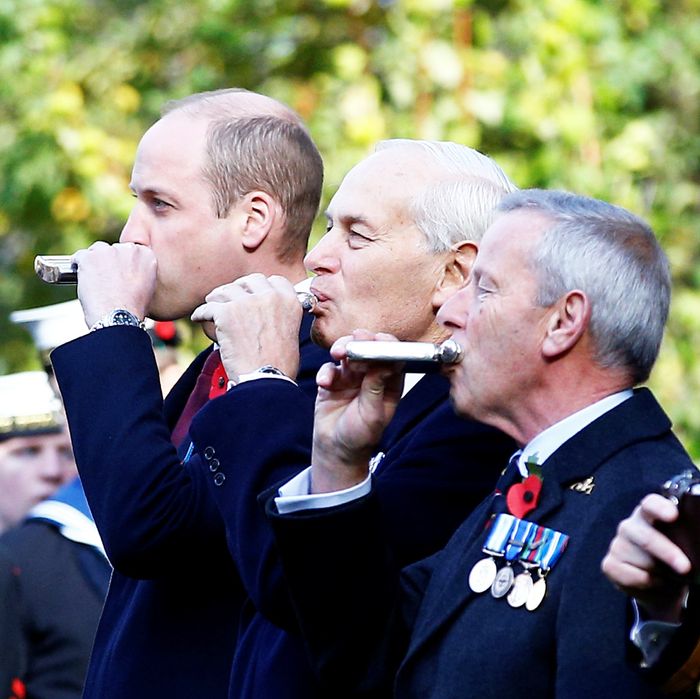 Prince William drinking out of a flask.
Photo: WPA Pool/Getty Images
On Sunday, Prince William attended the Submariners Remembrance Service and Parade to honor those who were killed in the line of duty. At one point, the prince — who serves as the commodore-in-chief of the Submarine Service — joined others to toast "absent friends" and take a swig of a flask. Only, someone apparently swapped out the rum Prince William thought he'd be drinking and instead filled the royal's flask up with a Jägerbomb. Or at least, according to him.
In case you are #blessed to not know about Jägerbombs, please let me explain this thing I spent much of my sophomore year of college willfully ingesting. Jägerbombs are composed of Jägermeister — a digestif that Wikipedia tells me is 35 percent alcohol by volume — and basically whatever energy drink you can find. Jägerbombs do not taste good, and they are bad in general, from my experience.
As People reports, Prince William was photographed drinking out of the aforementioned flask at the nautical event (see above). Afterward, he was spotted laughing (see below).
The husband of Kate Middleton (and dad of Princes George and Louis and Princess Charlotte) reportedly spoke about his surprising flask experience at a reception after the event — saying that he had thought he was going to be sipping on some rum. Instead, some sailors "pranked" him. "That would have sorted me out," Prince William reportedly joked, per People. "I was expecting rum and got a Jägerbomb!"
The prince also later reportedly told the story again — a good bit must always be repeated, I guess — at the reception. "I'll never be asked twice about drinking, it's very important. They tried to put a Jägerbomb in it! Imagine my surprise; burnt my throat!," he said, per People.
Hmmm. From my experience, the throat burning checks out (it is not a pleasant drink, I assure you!) but the smiling afterward in the picture above is a bit suspicious — I would not smile after accidentally drinking one of those now that I am old! On top of that, Prince William was spotted imbibing the very beverage just last year. But I guess I'll be polite and take him at his word … while also cursing whoever allegedly spiked his drink for forcing me to revisit memories of Jägerbombs past.