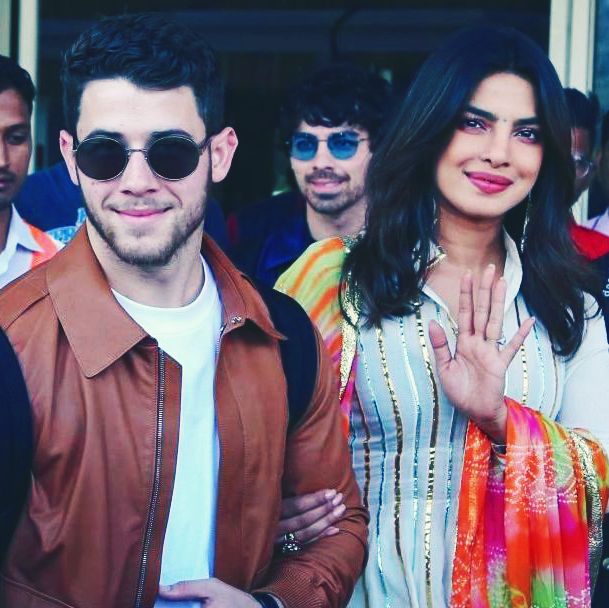 Priyanka Chopra and Nick Jonas.
Photo: Sunil Verma/AP/REX/Shutterstock
Just four months after hopping on the high-speed betrothal train with Gravidson (RIP) and the Biebers (plural), Priyanka Chopra, 36, and Nick Jonas, 26 are finally getting married, and the multi-day wedding is already off to a start. The couple has instituted a no cell phone policy at the main ceremonies, meaning you won't be able to follow along on Instagram; still, all the details we've managed to glean about the festivities so far are incredible: the over-the-top guest gifts, the luxurious wedding venue with "dancing peacocks," the beautiful traditional outfits.
Below, here's everything to know about the ceremonies, who's on the guest list, and what drama is already ongoing.
First, a quick summary of Chopra and Jonas's relationship.
The first time Chopra and Jonas met, at a Vanity Fair Oscars party last year, Jonas got down on one knee — or so he told Vogue. Apparently, the two had been texting for a few months beforehand, but at the event, he put down his drink and said in front of a crowd, "You're real. Where have you been all my life?'"
Per the Vogue interview, one of the first times the couple hung out for a couple of hours, when Jonas got up to leave, Chropra says he "patted her back."
"There was no kiss," Jonas confirmed. "There was nothing … She's still upset about that." Damn.
It wasn't until the 2017 Met Gala that the public speculated the two were seeing each other. According to sources, things didn't really heat up until this summer, when they met each other's families. (Jonas took Chopra to his cousin's wedding in June, and later that month, she brought him to India to meet her mother). The moment Chopra knew the love was real, though, was during one of their dates in Los Angeles, when Jonas allegedly said, "I love the way you look at the world. I love the drive you have." She was flattered that he liked her "ambition," as she says she wasn't used to men telling her that.
Then, sometime in mid- to late July, Jonas shut down a Tiffany store in New York City to pick out an engagement ring, and soon after proposed to Chopra in London. Since then, their engagement has been moving quickly.
The wedding festivities started on Wednesday.
On Wednesday, Chopra and Jonas kicked off their multi-day ceremony with a puja, a Hindu prayer ritual that multiple outlets are saying took place at Chopra's mother's house. Everyone at the event — including Joe Jonas and Sophie Turner — wore traditional Indian clothing, with Chopra donning a light blue embellished suit and Jonas in light pink.
Next on the agenda are handful of Hindu ceremonies: Sangeet, Mehendi, and Haldi, all of which will transpire at Jodhpur's Mehrangarh Fort. The actual wedding ceremony is expected to occur at the stunning Umaid Bhawan Palace, a luxury five-star Taj heritage hotel with a 15-acre garden and, to reiterate, "dancing peacocks," per the venue's website. For the main ceremony, Chopra told Entertainment Tonight that she will be wearing something "cute and comfortable." According to Vogue, Jonas will be dressed like Indian royalty, holding a sword and wearing a turban, and will ride into the ceremony on a horse. (He swears he's comfortable with this entrance.)
The couple also plans to have a ceremony in the U.S. at some point, a source told Entertainment Tonight.
Who is — and who isn't — attending.
While we don't yet know who will actually attend the ceremony, a number of celebrities are expected to have made the wedding guest list: Dwayne "the Rock" Johnson, Armie Hammer, Lupita Nyong'o, and Kelly Ripa. According to latest reports, all guests have been personally asked to sign a confidentiality clause, and rumor has it there's a total social media lockdown. (Guess we'll find out soon!)
There is one notable couple who reportedly won't be attending: Meghan Markle and Prince Harry. While Chopra and the duchess have been close for years, Cosmo reports that the latter will not be traveling to India, in part due to being pregnant.
All guests who do attend will receive multiple gifts as part of the couple's "Oh Shit Kit," which includes an informational guide, lots of edible treats, two books (Western Weddings for Dummies and Indian Weddings for Dummies), a custom coin, and more.
There's already a bit of wedding drama.
Long before the actual ceremony, Indian publications were concerned about Priyanka and Jonas's wedding ceremony at Umaid Bhawan Palace on December 2, which is just one day after Bollywood stars Deepika Padukone and Ranveer Singh's major Mumbai wedding reception at the Grand Hyatt.
"Since the guest list for Deepika's reception and Priyanka's wedding is nearly the same there is a genuine clash of interest here," said a guest who is attempting to attend both events to Deccan Chronicle. However, not everyone will be that ambitious — which couple will they choose?