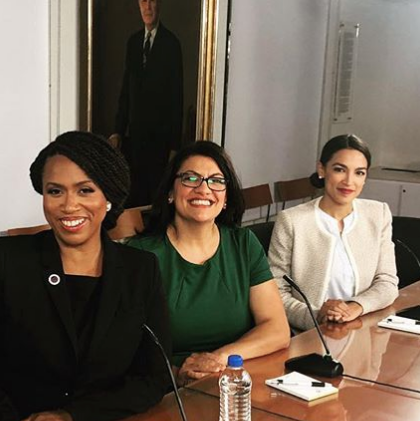 Ilhan Omar, Ayanna Pressley, Rashida Tlaib, and Alexandria Ocasio-Cortez.
Photo: Screenshot via Instagram.
The 2018 midterm elections saw historic wins for women across the country, and provided some of the best hope for the future. The wins of women will change American politics. And now, after months on the campaign trail, they are finally able to get to work on the issues they advocated for.
Soon-to-be congresswoman Ocasio-Cortez posted a photo captioned "squad" in Washington, D.C., sitting at a table (symbolically and literally) at VoteRunLead's Women and Power Town Hall with fellow congresswomen Rashida Tlaib, Ilhan Omar, and Ayanna Pressley.
Omar and Tlaib are the first Muslim women elected to Congress. Pressley is the first black woman in Massachusetts to serve in Congress. Ocasio-Cortez is one of the youngest people ever elected to Congress, and her progressive platform gained her national fame.
Tlaib also posted a photo of the four, writing "Going to hit the ground running fighting for #JusticeforAll."
Can't wait for so many more good Instagrams from Capitol Hill.