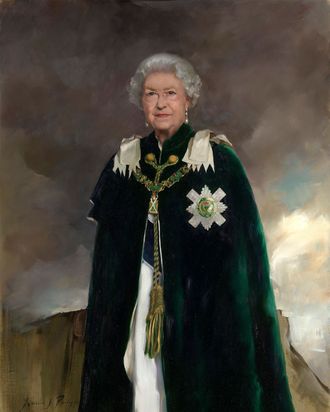 Queen Elizabeth.
Photo: NICOLA JANE PHILIPPS HANDOUT/EPA-EFE/REX/Shutterstock/NICOLA JANE PHILIPPS HANDOUT/EPA-EFE/REX/Shutterstock
There's a new portrait of Queen Elizabeth II, and the 92-year-old matriarch looks extremely regal in her velvet green grand ceremonial robes. She is also wearing the Order of Thistle collar, which features a pendant of St. Andrews and is the highest order of chivalry in Scotland.
British Painter Nicky Philipps completed the portrait, which will be housed in the Royal Dining Room at Holyrood House in Edinburgh, Scotland. Phillips also completed the first double portrait of Prince William and Harry in 2010. Her most recent portrait of Queen Elizabeth is her third time painting her Majesty.
According to Entertainment Tonight, the Queen's ensemble is the same one she wore during her trip to Scotland with Prince William over the summer, when she and the Duke of Cambridge attended the annual Order of the Thistle Service at St. Giles' Cathedral.
The portrait is definitely the least dramatic news out of the royal family in recent weeks. Rumors of a feud between Kate Middleton and Prince William and Meghan Markle and Prince Harry have been circulating through the British tabloids, along with other conflicts between Prince Charles and his sons, as well as a few major staff changes at the palace.
But the undated oil painting of the Queen shows a woman utterly unfazed by the gossip floating around about her family. She's got excellent posture and an absolutely serene expression, entirely composed. The Queen doesn't look like she's worrying about whether or not Prince Harry feels "imprisoned" in Kensington Palace, or if royal aides think Meghan Markle works too much.