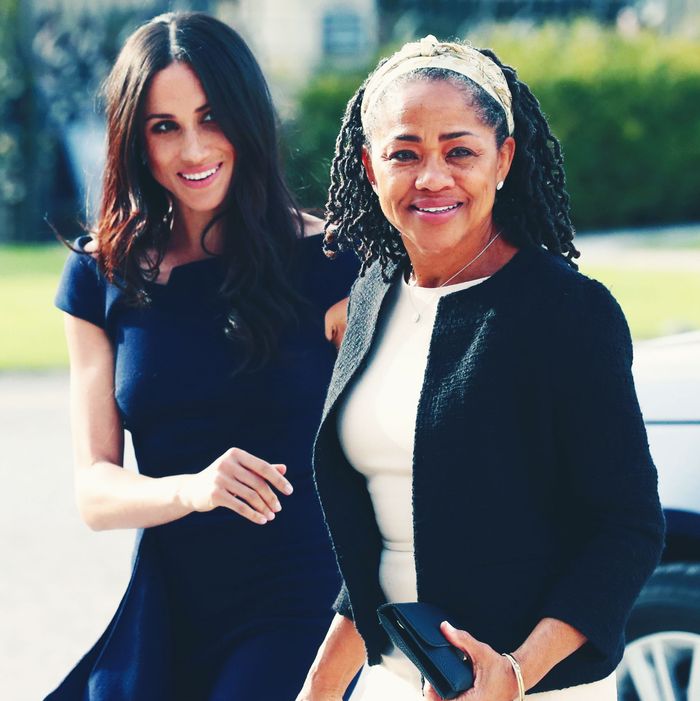 Meghan Markle and Doria Ragland.
Photo: Steve Parsons/Getty Images
Meghan Markle and her grandmother-in-law, Queen Elizabeth, are known to be close; they reportedly bonded over dogs, hat drama, royal protocol, and presumably their shared love of Prince Harry. In fact, according to the Daily Mail, the queen is so fond of Meghan that she's reportedly extended an invite for her mom, Doria Ragland, to join the royal family for Christmas.
The queen is quite strict about whom she allows to spend the holidays at her Sandringham estate in Norfolk — even Kate Middleton wasn't invited to participate in royal holiday activities at Sandringham until after she married Prince William in 2011, despite years of dating. But last year, Meghan was allowed to spend the holidays at Sandringham, even though she and Prince Harry were only engaged at that point.
This year, with Meghan expecting her first royal baby and reports circulating that Doria might be moving from California to the U.K. to be closer to her daughter, the queen has apparently decided to again go out of her way (well, in the context of royal behavior) to make Meghan feel welcome this holiday season — by inviting Doria to stay at Sandringham for the holidays. The Daily Mail points out that the Middletons have never been invited to stay at the estate, though they have attended Christmas day church services with the royal family. So the invite is rather unprecedented.
But rather than taking this as a snub to the Middletons, a source told the Daily Mail that the invite is a "very thoughtful gesture," as well as a "mark of respect" from the queen. After all, Meghan is close with her mom (even though Doria, a yoga teacher, lives across the world), and Doria is the only member of Meghan's family who attended the royal wedding. As such, the invite is likely a kind acknowledgement that Meghan doesn't have any other family nearby, the Daily Mail reports. We can only assume Doria will bring some healthy snacks to share with the royal family during the holidays.