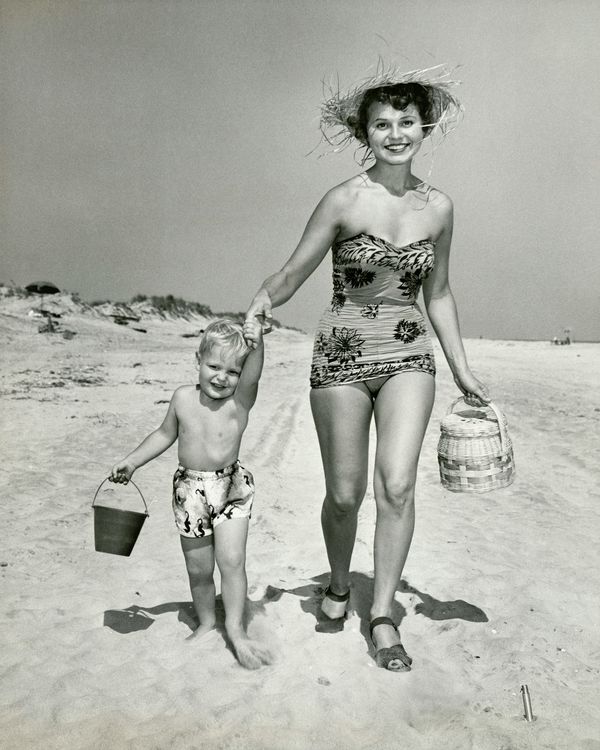 Photo: George Marks/Getty Images
Nobody wants to be chained to their desk anymore, and yet here we all are. More than half of people would prefer a job with flextime, according to one study. Thirty-seven percent would change their job to have one that allowed them to work remotely at least part-time. This freelance editor, her husband, and their 6-and-half-year-old daughter made a drastic move for ultimate flexibility — leaving suburban life and her husband's job in 2016 to sail full-time in the Caribbean. Here, she talks about close quarters, unforeseen costs, and one specific medical incident involving a legume.
After our daughter was born, my husband and I started looking for a house with a yard. We ended up buying a sailboat instead. Every summer we'd take it out for a whole month and sail from Chicago up the western coast of Michigan or up to Door County, Wisconsin. After the third season, we docked the boat and I said, "Why don't we just do this all the time?"
My husband was just burned out. He loved his job at an audio and video firm but was looking for a change. I'd been working part-time as a contract editor and had been thinking about getting a full-time job, but that didn't seem to fit the future we wanted.
We realized how limiting our life would be if we stayed on the same path. My husband was traveling and missing day-to-day family time, and even our weekends were so structured. I found myself focusing on things that really didn't matter, like wearing Lululemon to take my kid to the park. You feel these ties holding you down to a life you think you planned for yourself. We found them getting more and more constricting. And we both really wanted to travel.
So we thought it was worth a shot. We sold both our cars. We sold our condo and put our boat up for sale. We sold most of our possessions. We packed what we had left in a rented van and drove to Florida. We bought a 42-foot sailboat with two cabins, two bathrooms, and a separate shower. I demanded a separate shower.
The first season, we did the Bahamas, Turks and Caicos, and the Dominican Republic. We spent the first hurricane season in the Dominican Republic, then cruised to Puerto Rico, the Spanish Virgin Islands, the U.S. Virgin Islands, and the British Virgin Islands. We hopped over to Saint Martin and did the whole island chain all the way down to Grenada, where we've been for the last few months.
When we're stationary, I work about 25 hours a week doing freelance editing, and knock it down when we're out sailing. My husband got his captain's license and trained as a marine electrician before we began sailing full-time, so he's been setting up his business. We're very lucky that the work we do allows us enough flexibility to do this, even when it's hard.
We started with a "cruising kitty" of money we'd saved up over a year, plus cash from selling our cars and our furniture. But we thought it would it last us a lot longer than it did. We thought my husband would keep consulting for his old company longer and that our boat in Chicago would sell sooner.
Day-to-day, this is a much cheaper way of living. Right now, we spend $500 a month on our boat mortgage, $400 for insurance, $150 for cell service and data, about $500 on groceries, and $400 on things like eating out, tours, and car rentals. We could live well on about $35,000 a year, probably less than a third of the cost our conservative-but-comfortable lifestyle back home.
Still, this lifestyle has been a lot more expensive than I thought it would be. In a lot of these places, your grocery bills are huge. But the surprise has really been all of these unforeseen big-ticket items. A huge slew of boat repairs in Puerto Rico last winter cost thousands and thousands more than we expected, around $20,000 total. Stuff just breaks, and it breaks sooner than anticipated. And parts and labor are hard to come by here.
I had to take last-minute flights back to the U.S. last year due to two deaths in the family within two months. When we first started sailing full-time, our then-4-year-old stuck a dried bean up her nose while we were in a remote part of the Bahamas. We had to fly to Nassau to have it removed in a hospital — the whole thing probably cost more than $3,000. And when you're living a lifestyle like this, you're counting every dollar.
Everything takes more time and effort when you're out in the islands. And we're juggling a 6-year-old child with no childcare, homeschooling her, and coordinating who needs the dinghy when. Yesterday, I went grocery shopping with my daughter and it took three and a half hours, taking the dinghy to shore and then catching the bus.
But we wouldn't be able to do this kind of travel if we were flying in for a vacation. We can drop the hook just offshore and live anywhere for two or three weeks. We're surrounded by all of this beauty. And it's hard to think about going back to not seeing my husband all day and not being as involved with my daughter's school. Plus, my daughter has always enjoyed that she can just run around naked and free onboard! I would have a really hard time giving all that up.
We say we'll keep doing this as long as we can afford it and as long as everyone's happy. We have savings and a college fund for our daughter, but we don't want to touch either while we're doing this. So if what we're earning isn't enough to live on month-to-month, that will be it.
But we don't really have plan. I think that in and of itself is pretty freeing.