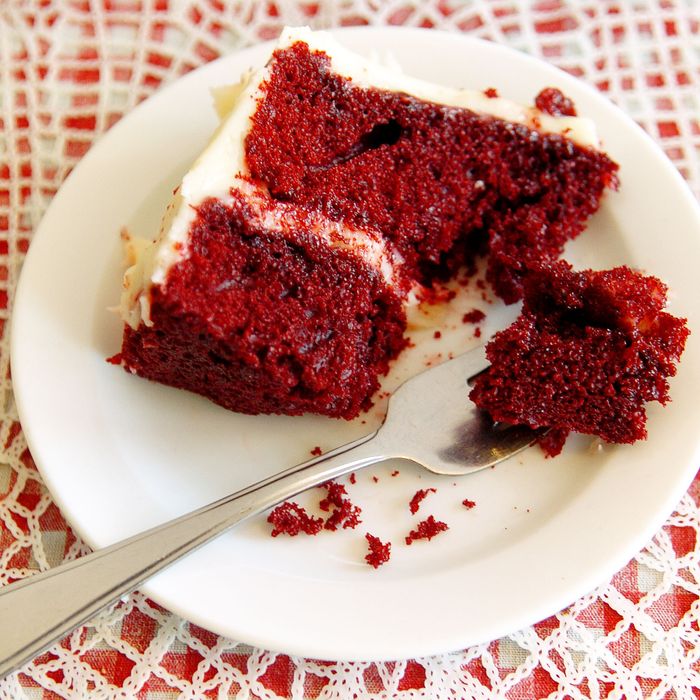 Photo: CYRUS MCCRIMMON/Denver Post via Getty Images
All good parties begin and end with dessert.
About ten years ago, I decided it would be fun to make a red velvet cake from scratch for Christmas. My mom gave me a yellowing recipe she'd clipped and saved from the New York Times which called for three layers and a cream cheese frosting. It was so good that we decided to make it a tradition. Not only have I baked the cake every single year since, but we've invented an entire occasion around it: The Red Velvet Party.
Red velvet cake is not a dessert most people eat regularly. Something about its color, texture, and name makes it well-suited for special occasions, specifically fancy ones. In the Victorian era, "velvet cake" was considered a fancy dessert for its soft, moist texture, which is the result of cocoa powder being mixed with flour. And velvet fabric is historically associated with kings and queens for its high production cost and scarcity. King Richard II of England, for example, allegedly wrote in his will that he wanted his entire body be clothed in velveto when he eventually died in 1400. Nice.
The "red" part of red velvet cake is less clear, but it's said to have come in because of the dessert's similarity to Devil's food, which also became popular during the Victorian era. (The Devil is red, apparently.) The use of brown sugar might have also been a factor. During the Great Depression, Adams Extract company introduced the dessert to mainstream Americans by being the first to sell red food coloring with cake recipe cards. By the 1950s, though, red velvet had reclaimed its status as an elite treat when it was added to the menu at the Waldorf-Astoria hotel in New York City.
Personally, I love chocolate cake just as much as I love dressing up and hosting holiday parties, so a red velvet–themed event seemed like a natural combination of all my interests. I also like telling people what to do, so of course, I enforce a strict dress code every year. Rarely do people follow it — I'm learning that red velvet in general is an acquired taste — but when they do, I'm sure to reward them with an extra slice of devilish deliciousness.
Below, some suggestions on what to wear to your own Red Velvet party (and mine). See you there, fancy friends!
Shop the Story
Available in sizes 20–26.
Available in sizes XXS–XL.
Available in sizes 14–26.
Available in sizes 1X–3X.
Available in sizes M–XXL.
Available in sizes 00–16.
Available in sizes 14–24.
Available in sizes 5.5–10.
Available in sizes 5.5–11.
If you buy something through our links, New York may earn an affiliate commission.