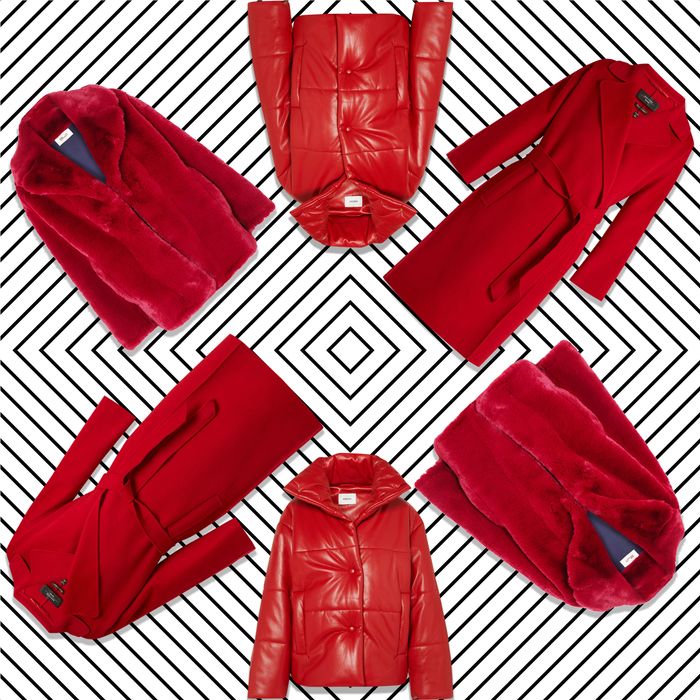 Photo: Courtesy of the Retailers
Most people shopping for a new coat will buy a black one. You know it'll camouflage coffee stains, hide wear-and-tear, and remain stylish in five years. But when you stare into a sea of identical black puffers and pea coats, everything feels a little sad. Winter leeches the color from everything so why not be the bright spot in the crowd? A rich red style does just that. And it is in a sweet spot between "on trend" and "classic." Whether you're looking for an of-the-moment evening coat like a faux-fur, or if you're reading to commit to an investment coat, we've found a style for you. Shop the story below.
If You Want a Good Basic
It'll match everything just as well as any black peacoat.
Available in sizes XXS–XXL.
If You Want a Cool Faux Fur
At just under $200 it's an easy way to buy into the trend. This one is particularly fun because it hits at the hip and feels less formal than a longer style.
Available in sizes 1X–3X.
If You Want a New Work Coat
Throw it over a blouse and a pair of menswear-inspired trousers for a stylish office outfit.
Available in sizes 14–20.
If You're Into the Grunge Revival
Paired with combat boots of course.
Available in sizes 14–16.
If You Want an Elegant Option
The puffy sleeves make for a lovely touch — just look at this beautiful photo by Lily Cummings.
Available in sizes 14–28.
If You Want a Fancier Faux Fur
Don't write it off as a holiday only coat — try it with jeans and sneakers in the new year.
Available in sizes 6–14 U.K.
If You Want to Be Cozy
An acceptable way to wear a bathrobe outdoors.
Available in sizes 6–12 U.K.
If You Want a Super Plush Faux Fur
You'll want to bury yourself in its softness.
Available in sizes XS–L.
If You Want a Slick Vegan Option
We're a big fan of Nanushka's vegan leather and this jacket is a particular favorite.
Available in sizes XS–L.
If Your Head Gets Cold, Too
Hey, it does!
Available in sizes S–M.
If You Want to Be Extremely Warm
For when that inevitable polar vortex hits.
Available in sizes XS–XL.
If You Know Red Is Your Color
Nothing says "true love" like Max Mara.
Available in sizes 4–18 U.K.
If You Want a Great Work Coat
Yes, the price tag is kind of intimidating but Fleurette sources from Loro Piana, one of the fanciest textile companies in the world.
Available in sizes 14–24.
If You Want a Functional Coat
With this jacket you're getting a stylish puffer that's also thoughtfully designed with knit wrist warmers.
Available in sizes 4XS–2XL.
If Hype Is Life
If You're Minimalist Who Loves Color
No buttons, no frills, just a swath of red wool. (Belt optional).
Available in sizes XS–L.
If you buy something through our links, New York may earn an affiliate commission.