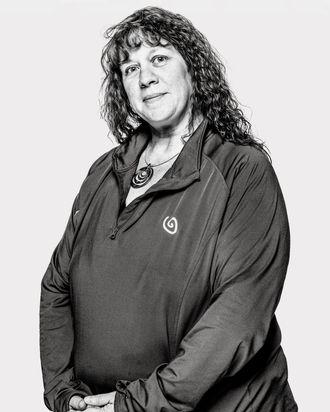 Trump voter Merchon Andersen: "We have become so PC that we're just letting the world walk all over us. Trump put his foot down."
Photo: Benedict Evans
According to some, President Trump's behavior — and the GOP's relentless, widespread misogyny — are driving women away from the Republican Party. While pundits and recent polls suggest that the very women who installed our current president are turning their backs on him, whether or not recent events will actually hurt Republicans in the midterms is still anyone's guess.
For an unscientific sample, New York checked in with a group of Republican women who we had interviewed in 2016, first in the run-up to the New Hampshire primary and the Iowa caucus, then again within weeks before the general election. As of late October 2016 — after the Hollywood Access tape had been released — all but one were still planning to vote for Trump. If they are any guide, reports of women abandoning the party this year are exaggerated. While some expressed sympathy toward Christine Blasey Ford, most defended Kavanaugh as well. Instead, the most common themes this year were border protection and disgust toward what they perceive as incivility on the left. If there's one clear takeaway, it's that the right-left divide is still getting deeper.
"We're going to show those Democrats."
Things have gotten worse with the left, and we're not taking it anymore. I'm encouraging my children to vote. I've got a lot of Republican friends. We're going to show those Democrats that we see what they're doing.
I've got some friends that, through this Kavanaugh ordeal, have walked away from the Democratic Party. I'm not saying that what happened to Dr. Ford didn't happen, but being a survivor myself, I remember everything from start to finish. There's no cloudiness. But I feel sorry for her, because she suffered at the hands of the Democratic Party.
I do wish Trump would think sometimes before he speaks. But there are times that he's said things that needed to be said, whether it was PC or not. We have become so PC that we're just letting the world walk all over us, make us the laughingstock. He's put his foot down.
Something needs to be done about the border. If it takes a wall, it takes a wall. I want everybody to take a good long look at the people that are coming in with this caravan. It's probably 95 percent male. Where are the women? We can't even take care of our homeless here, and now we're bringing more in. My son doesn't qualify for Medicare or Medicaid, but somebody coming into our country does? This is not right. He makes just enough to not be able to get assistance, but he's paying child support and everything else, and he struggles. Is this fair? — Merchon Andersen, Iowa
"I've been happy with President Trump so far."
I already voted, and I went straight-ticket Republican. I've been happy with President Trump so far. Coming from an accounting background, I was happy to see the tax bill go through. We haven't even really gotten to see the full effects of the cuts yet, so I'm excited to go through a tax season and see how that works out for individuals.
The Supreme Court justices were a big deal for me — though I feel like it's hard to touch the Kavanaugh issue. I don't know either way, but … they looked into it, and I felt like the legal process was followed. And by all of their accounts, besides those accusations, he did appear to be an upstanding citizen.
On the immigration issue, I honestly feel like we need to let all the Dreamers stay. I know some of them, they're friends of mine. But I'm also looking for broader immigration reform. We do need tighter security.
I think #MeToo is important, and I'm glad that people have been given a voice, but it hasn't made me look at politics much differently, because I think harassment and abuse happen in any sector. We hear about it more in politics, and with movie stars, but it happens everywhere. — Nicole Martin, New Hampshire
'It's almost like an army attacking us.'
I've been making phone calls, writing ads, promoting candidates, going to events. I just believe it's crucial that we are involved and that people are encouraged to vote. I am doing everything I can to make sure voting is not fraudulent. I have signed up to be a poll watcher.
The economy is doing what I had expected Trump would do. It's really coming along. In the past, before Trump, it was not free trade. America was giving, giving, giving, others were taking, taking, taking,
I would like to see some strides made in regard to immigration. It's crucial that this onslaught that's on their way, that we do not pander to them, because they have not been invited, and they are not going about the legal way to get in. It's almost like an army attacking us.
I absolutely abhor the tactics Democrats are using. People who made accusations that are unfounded, particularly in the Kavanaugh situation — I would like to see them prosecuted. There are people on the left who have actually told their followers to commit crimes against people. We want to pursue life, liberty, and the pursuit of happiness, and when a family goes out for dinner, they should not be accosted in a restaurant with shouting and that kind of thing. That is not in line with the Constitution. You don't see the right suggesting that kind of thing. — Annette Reimer, Iowa
'I think this presidency is going well.'
I have voted already, absentee, and I voted Republican all the way down. I think this presidency is going well. I was happy with the tax cuts. I don't know if they'll benefit us directly — we are retired — but we have five children and 14 grandchildren and great-grandchildren, and I'm sure it will benefit them.
Trump's pro-life stance is a major point for me. I'm not sure Roe will ever be overturned, but I think there will be gradual changes, probably at the state level, that will begin to protect the life of the unborn. In the next couple years, I'm hoping we can have a better health system, including a reduction in prescription-medication costs. I think Obamacare probably should be overturned, but the system still meet the needs of all the people who really in need of help. Not national health care.
Nothing from the last two years has disappointed me — except the violence, and the escalation of rhetoric that's coming from the left side, from the liberal community. Like at protests, when people are smashing windows and threatening people and hurting people and disrespecting the police, that kind of thing. Take California, at the university, when there was so much violence. I don't like to see it, like in Oregon, where the police have to stand back and let things happen. We are a nation of laws. —Barbara Nicholson, Iowa
'Democrats might stop Trump from disaster.'
I will not be voting straight-ticket Republican, because I feel the Republicans are no longer concerned with the debt and the deficit. When you look at the tax cut, that was not fiscally responsible. Paul Ryan has done a very poor job running the House. If Democrats get elected in the House, I think they may get some backbone and be able to put some check on President Trump. They may stop more disastrous things that President Trump might do.
I was never a Trump fan, but I thought he might do a better job governing. I'm surprised at how little he knows about our Constitution. I'm not even sure he knows the words to the national anthem — I saw him mumble it. —Claira Monier, New Hampshire