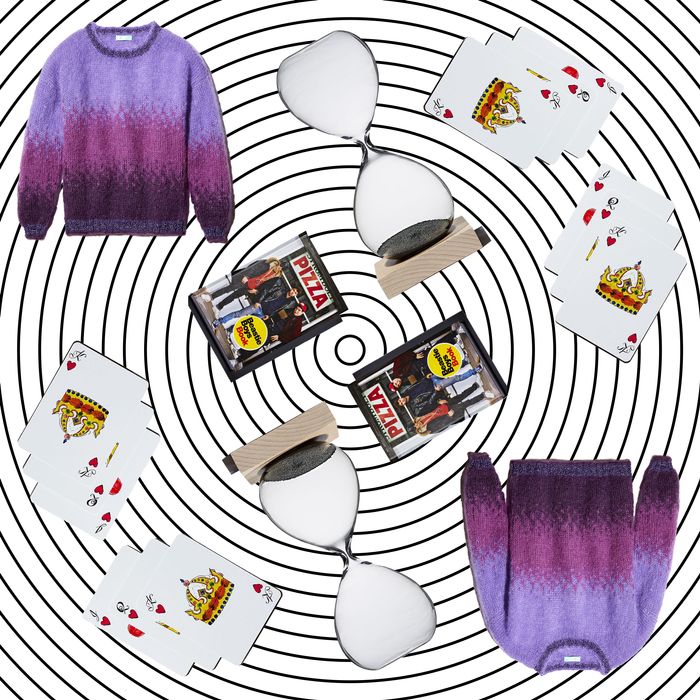 Photo: Courtesy of Bloomingdale's
One of the best things about the holidays is how they're steeped in nostalgia. From Aunt Nancy's scandalous stories of her hippie youth, to sweet stories of family traditions past, there's something reassuring about looking back in time together (even the embarrassing moments your mom just has to bring up). For the same reason, vintage-inspired items make for great gifts. And this season, Bloomingdale's in-store pop-up shop, The Carousel, is dedicated to old things made new. Clare Vivier curated this second installment of the rotating pop-up according to the theme of "Past Made Present," with apparel, accessories, home goods, and tech for men, women, and kids. Below, check out our favorites from the collection, which is available until January 7 online, as well as at Bloomingdale's 59th Street and Soho in New York, and at the Century City and San Francisco stores in California.
Paired with a blonde bob and some kohl eyeliner, this coat would fit perfectly into the '70s-tinged aesthetic of a cult filmmaker. But the use of faux fur keeps its timeless style fully up-to-date.
Music nerds, New York history buffs, and pop culture obsessives will all appreciate this autobiographical deep-dive into one of hip hop's most influential bands, complete with untold stories and celebrity contributions.
The old-fashioned tin makes these fancy chocolates feel extra special.
A handwritten note is an even classier move now that it's rarer — help make someone you like look good with this stylish card set.
They may be glued to their phone, but thanks to the old-school French lettering on this case, they'll at least look sophisticated while scrolling. (If they have a newer model, try this one.)
In 50 years, a classic Rolex will still be relevant. A pre-owned one is slightly more accessible, but will be just as prized by whomever receives it.
This puzzle derivative of Josef Alber's Homage to the Square series is a playful gift for a friend who's gung ho on midcentury style.
Is there anything more indicative of Old Hollywood glamour than beautiful leather luggage?
Depending on his age, he'll either be bemused that he used to wear the same ones playing basketball in high school — or he'll just be into their retro vibe.
This necklace looks exactly like something a beloved grandmother would pass down. Slip a tiny picture or note inside, and they'll cherish it in the same way.
Make a memorable impression on your hostess by bringing her these hand-embroidered cocktail napkins, which she can put to use during the party.
The '80s are having a big moment right now, and just the right amount of the decade's flamboyant spirit makes this sweater fun but still modern.
If they're obsessed with apps that make their pics look dated, they'll like how this compact point-and-shoot feels like a throwback to the heyday of instant film — but with much higher resolution.
This cookbook and guide to decreasing personal food waste is curated by the James Beard Foundation, and looks like something your parents got soon after getting married.
Encourage your niece who's super into skating (and flex that you know what's up) with a board that nods to the history of the culture.
Hourglasses have had spurts of popularity since ancient times, so they make for a soothing, era-agnostic touch to any space — and are nicer to watch than a smartphone timer.
This '70s-esque speaker is both attractive and deceptively tech-advanced, with Wi-Fi and Bluetooth connectivity and advanced acoustics.
An art-y deck of cards is a useful "little something" for someone who just moved into a new place or has you over a lot. Pair it with tickets to go see the artist's retrospective, which are selling fast.
All images courtesy of Bloomingdale's.
This is paid content produced for an advertiser by New York Stories. The editorial staff of The Cut did not play a role in its creation.