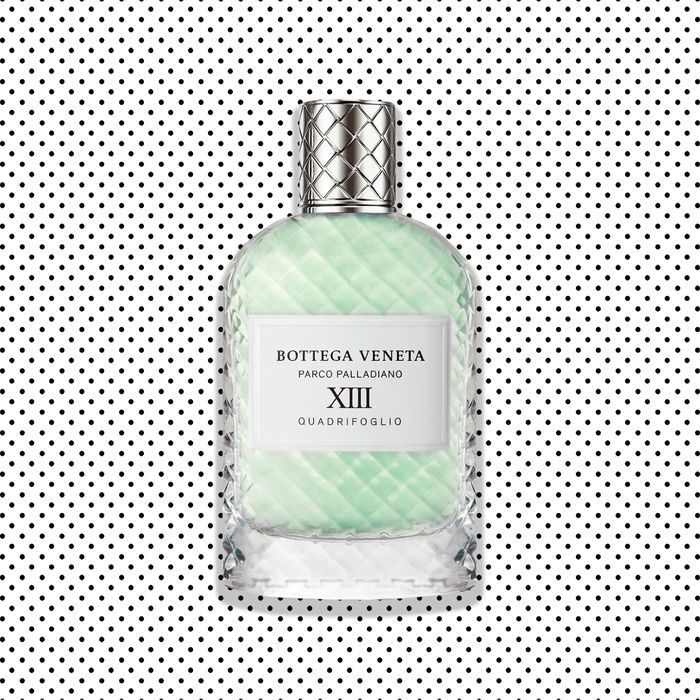 Photo: Courtesy of Bottega Veneta
I've never been able to find a four-leaf clover. Looking for them used to be my grade-school hobby. My friends and I would do it in the badly maintained grass of our school soccer field. The nuns forbid us from rolling up our hunter-green knee socks, so bits of grass and mashed three-leaf clovers would stick to them and we'd have to pick them out once class was over.
I remember all the smells from that time. I remember the lawn-clipping scent of the soccer balls as they rolled toward us. I remember the smell of cheap wool and its itchiness. And I remember the smell of the clovers — it was sweeter, less bitter, and more green than the grass around us.
French perfumer Aurelien Guichard wasn't inspired by poorly fertilized American turf, but smelling his scent Quadrifoglio somehow tapped into my scent memory bank. Created for Bottega Veneta's Parco Palladiano collection, the brand challenged a collective of perfumers to create scents inspired by the Palladian gardens and greenery surrounding the brand's atelier in Montebello Vicentino. A spicy smelling hedge labyrinth, sweet-smelling grass, oak and magnolia trees are just some of the plants the Bottega Veneta weave artisans come across daily. Quadrifoglio is named after the Italian word for four-leaf clover and is one of the twelve scents that round out the collection.
Guichard explained his inspiration for the perfume to me, speaking in lightly accented French. "Imagine the early morning of spring in the Veneto. It's around 8 a.m. The sun is rising. You can see the bed of mist fading away. Around me, there is the immensity of green, coming out of the fountain into the stone. Among the grass, I can see a clover with three leaves. I see one, two — I see a third one. You pick it up, it brings you luck. It brings you there. I smell the environment. It's green, vibrant, fresh, and tender." Well, same.
The fragrance is nose-tinglingly wet smelling, light, supple, and green. It smells dewy and grassy but not soapy. If it were a juice, it would be one of Juice Press's most expensive green-only juices, but without bitter chard or collard greens. It smells like a plate of exotic, expensive non-lettuce salad options like frisee, escarole, radicchio, and mizuna. It has the luxury of a clean, softly manicured golf green. I like it because spritzing it smells like a new day — like a non-bleary morning and the promise of a new notebook.
If you buy something through our links, New York may earn an affiliate commission.