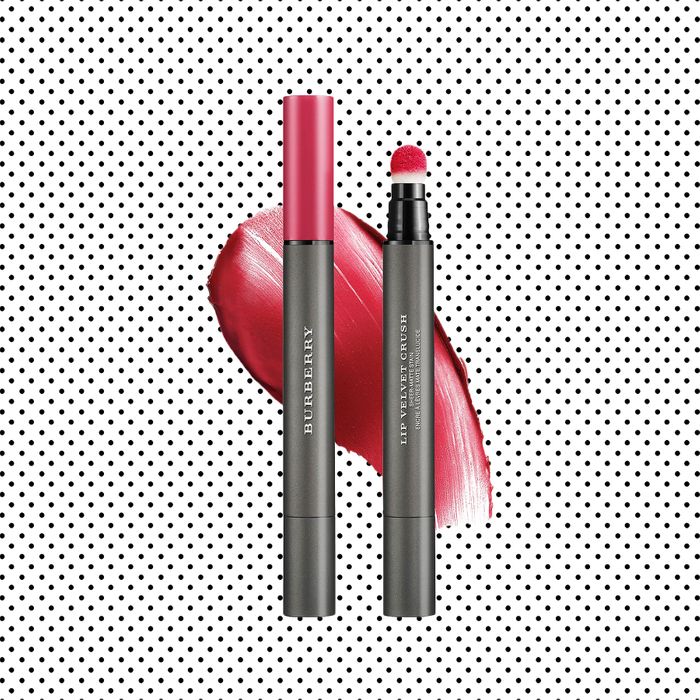 Photo: Courtesy of the Retailer
My new favorite lip product is seven words long. This isn't a clue for 24 across in the New York Times crossword puzzle, but me complaining that beauty product names are getting too darn long. The CC cream I use every morning has 12 words in it! So I'm going to keep it simple and tell you that Burberry's new lippie with the long name is great.
It's really a lip stain. Not sure what a lip stain is? It's the color of your mouth after drinking a lot of sangria. Unlike lipstick, which coats your lips in creamy, colored film, a lip stain feels like nothing at all. A lip stain feels like all of us in space, or a hydrogen atom — completely weightless. In other words, it's easy to wear and you need no skills whatsoever to apply it.
Burberry's version — technically known as the Lip Velvet Crush Lip Stain — is housed in what looks like a fancy watercolor marker. It comes in a pen format with a slightly bulb-shaped cushion tip at the end. Twist it a few times and a watery fluid comes out. You can bounce the tip on your lips to give more of a blotted effect or trace the curves of your lips to get a velvety-looking matte stain of color.
On the lips, the stain makes you look more alive, in a Pleasantville-gets-color sort of way. You look more vibrant and lush. Your whole face brightens up and appears more animated and engaging. My face tends to look a little dull and shadowy thanks to too much mindless Instagram scrolling and a persistent case of sugar face, and this acts as a pretty diversion.
There are 12 colors in total, ranging from classic reds to pinks and nudes. Over time, the stain lightly and evenly fades and doesn't create lip cracks or chapped lips. I was pretty amazed to find that the color lasted without smudging or bleeding from lunchtime to dinner to post-dinner snacks. Since it went on sale earlier in the year, it's sold out several times — but there are still a few shades you can pick up right now. You can watch a video of me putting it on here.
If you buy something through our links, New York may earn an affiliate commission.