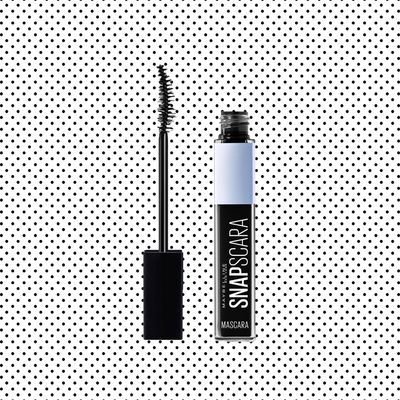 Photo: Courtesy of the Retailer
I don't wear mascara every day. I've tried them all — waterproof, smudge-proof, award-winning, volumizing — but have found less than 10 percent of them to be true to their word. Like Rio, I thought I was the problem. My lashes are too fine, so they get spidery at the ends. And they point straight down, so I always get raccoon smudges.
But now, for the first time ever, I've managed to find a drugstore mascara that won't give me a smudgy, lemur-eye look. Maybelline's Snapscara is like Glossier's Lash Slick mixed with Kevyn Aucoin. The wax-free formula (the first they've ever created) clings to my lashes, refusing to break down even when faced with the effects of oil and time.
The mascara, which comes in black, soft brown, and blue, goes on smooth and super dark, and you can use the brush to actually comb it through, adding volume and length. I like how precisely it holds my lashes' curves and lifts them without feeling heavy or sticky. A bit of warm water easily dissolves the mascara at the end of the day without any detritus.
My only caveat is that with multiple coats, it can get a tiny bit spidery at the ends if you overdo it. And if you're looking for a night-out mascara, this isn't what you want — it produces more of an elegant, no-makeup-makeup lash. But it's also $6, so Yahtzee!
If you buy something through our links, New York may earn an affiliate commission.