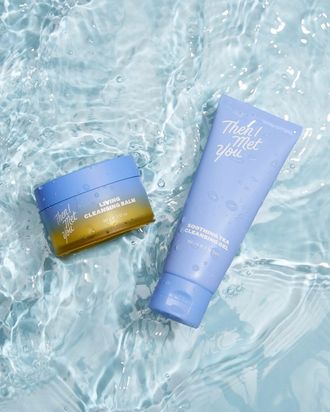 Photo: Courtesy of the Retailer
Washing your face is harder than it needs to be. First of all, it's boring, much like brushing your teeth. And worse, it's unsatisfying. How can you tell if your face is even clean?
If you're cleaning your kitchen after making spaghetti squash, you know when you stop — when your counter is no longer covered with stringy orange bits. But although you can visibly wash the makeup off your face, it's impossible to know what kind of dirt and grime has been left behind. All you can do is hope that you've cleaned your face enough to ward off dormant zits.
Since the whole experience is subjective anyway, you might as well find a face wash you really like. Lately for me, it's been the one from the brand-new line Then I Met You. The name makes it sound like a Gen-Z boy band or a melodramatic K-Drama, but it comes to you from Charlotte Cho, the entrepreneur behind Korean beauty emporium Soko Glam.
What I love about this face wash is how luxurious it feels. It's rich at every turn. It comes in a balm format that melts when you press a finger into it. It transforms to become a luxurious oil that's Usher-level smooth. Adding water transforms it again, so that it becomes a non-greasy milk. And as you gently rub, it dissolves, melts, and lifts off makeup and dirt.
You might think that truly clean skin feels spick and span, but your face doesn't need to be Pine-Soled like it's a counter top. Skin get dry, kitchen counters don't, so your face shouldn't feel like it's rubbed raw when you're finished cleaning it. This cleanser leaves your face feeling soft to the touch and refreshed. If most face washes are the equivalent of tossing your delicates into the wash on High, this one is like lovingly hand-washing them with Laundress's John Mayer detergent.
Admittedly, the price point is a tad high, but it does contain two products. In addition to the balm, the set also comes with a Cleansing Gel so you can double-cleanse if you want.