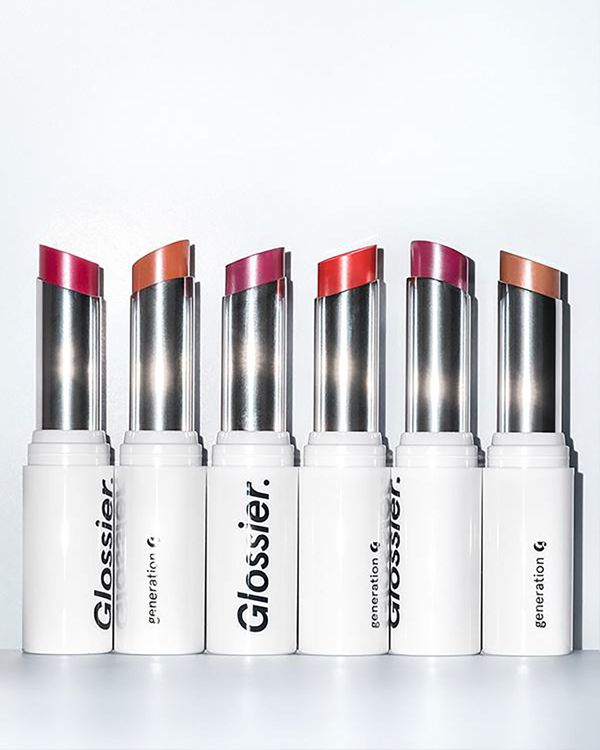 Photo: Courtesy of Glossier
Even though Anastasia Grey was a fan, Glossier's first lipstick, Generation G, wasn't without its critics. Many loved the "just-blotted" look of the lipstick, but others complained that it was prone to crumbling and dryness.
Naturally, the crowdsourced brand listened, and earlier in the month, Glossier announced that they were coming out with a new and improved Generation G. In response to customer feedback, they updated the formula to be more moisturizing and changed the packaging so that it now comes in a chubbier tube that's more secure. Here's what six Cut staffers thought of the new-old lipstick.
Erica Smith, Beauty Writer
This gets points for being exactly what it says it is — a sheer matte lipstick — which is a crazy combo. Putting it on is a little bit of a mindfreak — it feels like you're applying a lipstick that has completely dried out. (I do not recommend trying this if your lips are flaky or chapped.) But once you get the pressure right, the results are really pretty (I'm wearing Crush).
It truly does make it look like you've figured out blotting and that you're also fresh-faced and alive. It's like blush for your lips. I never tried the earlier versions of this so I'm not sure how much it's improved, but my lips felt pretty weightless after some wear. I'm a fan of the fatter packaging, and the stick hasn't broken yet. So far so good.
Katie Heaney
I have pretty much zero natural lip color (they just blend in with the rest of my pale face) so I've been on a search for the perfect matte lip tint for … a third of my life? At least? For a while, Gen G in Like did the job for me, but I was annoyed by how often the product flew from its tube, especially given the price. Then I found a better option, Colourpop Blotted Lip in Ice Cube for $5. Then they discontinued it. So here I am again.
At first I liked the newer Generation G better than the original — the packaging is inarguably better, and sturdier, and it's maaaaybe a little more pigmented. That said, I don't care for the perfumed smell and the wider shape. It's already hard enough to inconspicuously store lip products on my person. I also don't think the color lasts as long as it should, and it feels just as dry to me. I still had to layer it with Burt's Bees.
Izzy Grinspan, Senior Editor
Honestly, I didn't mind Glossier's original Generation G lipstick. Yes, it was a little bit dry. But the Like color was exactly the right "my lips but better" shade for me, and who doesn't want to look almost exactly the same, only slightly better? Looking approximately 23 percent better is what I want from all beauty products.
With the new formula, I picked the brighter, pinker Crush. It's creamier than the old version but still on the dry side. During the day, I kept having to top it off with lip balm. This definitely made the color fade, though it left behind a nice, pigmented flush. In the end, the ultimate test for me was this: Putting it on at work, forgetting about it, commuting home, catching a glimpse of myself in the mirror in my building's lobby, and thinking, "Wait, why do my lips look so good right now?" Twenty-three percent better, achieved!
Sarah Spellings, Fashion Writer
I don't know why but I never was interested in the old Generation G, despite loving other Glossier products. The packaging looked too flimsy and I didn't want to shell out $18 for product that looked like an arcade prize. But this new one looks and feels like a real lipstick. It has some weight to it like a fancy lipstick should. I adore the color, Jam. It's the perfect berry — subtle enough for everyday use, even on my fair skin.
Like many Glossier products, it's delicately scented like roses. It feels good on but is neither moisturizing nor drying. But the color doesn't last long. Two layers will last several hours without eating, or through one meal. But it's not a lipstick you can put on in the morning and not have to worry about all day. Thankfully I like reapplying lipstick, so call me a Generation G convert.
Hayley Schueneman, Beauty Writer
I'm not the biggest fan of lipstick, mostly because I spent several years on the competitive dance circuit. Wearing bold lipstick makes me feel like I should be holding hands with a bunch of Ashleys and nervously waiting to hear our scores. But I so badly want to reclaim lipstick.
I tried the berry color, Crush. It goes on smoothly, and I was happily surprised at how nice the color looked on me. It also looked nice on my roommate, who is blonde and has a totally different skin tone than me. It's a little dry, but not in a way that makes it uncomfortable or annoying. Plus, it fades evenly over time and doesn't leave a weird ring of color around the outside of your lips. Overall, it's a really solid color payoff with minimal effort and upkeep, which is pretty much everything I've been waiting for in a lipstick.
Kathleen Hou, Beauty Director
This lipstick is a bit of a slow starter. Straight out of the tube, it moves sluggishly along your lips. It doesn't really glide and the color applies in fits and starts. Erica is dead-on about the texture — it does feel sort of like a dried-out lipstick you forgot to cap.
Three is the magic number when it comes to Generation G. It takes about that many layers for it to move smoothly and for the color to really adhere to your lips. Once it does, the effect is soft and pretty, and it does give you a fresh, just blotted look even when you're applying it directly. I tried Zip, a bright tomato red, which had a color payoff that wasn't too jarring: somewhere between a tinted lip balm and a lip stain.
But this lipstick will not give you any sort of moisturizing salvation. Do not apply this if your lips have any dry patches because it will magnify them to become a Generation G–colored lip crack. Unlike John Legend's "All Of Me" song about Chrissy Teigen, this lipstick does not love all your curves and edges. A lip balm goes on just fine after applying Generation G, though, and doesn't move around the color too much.
If you buy something through our links, New York may earn an affiliate commission.