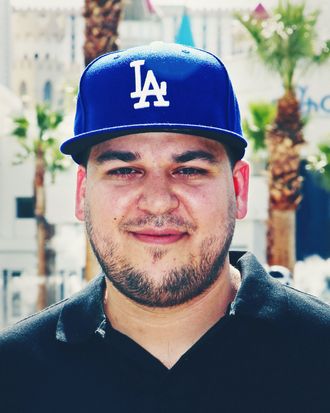 Rob Kardashian.
Photo: Gabe Ginsberg/Getty Images
Just six years after launching the luxury sock company of his dreams, Rob Kardashian had no other option than to sell half of the Arthur George line to one of his kind benefactors: his mom.
"Socks are something I've always been passionate about," Kardashian said in his announcement for his 100 percent Egyptian cotton line in October 2012 — around the same time that he met Blac Chyna, the woman with whom he'd have a very complicated relationship, and who he would come to blame for ruining his sock company. In November 2016, Chyna gave birth to their daughter, Dream, which was followed by tumult: the non-consensual nude photo scandal, the domestic-violence restraining order, and, today, an ongoing child support and custody battle that Kardashian says has left him incapable of growing his sock business.
According to court documents obtained by The Blast, Kardashian says he kept the business afloat with his "regular posting and general promotion on social media." However, he claims that following Chyna's restraining order, he had to alter his online presence according to "various prohibitions."
"In order to avoid any potential future issues, I nearly eliminated my social media presence," he says in the documents, adding that he consequently had to pass endorsement deals and brand promotions on social. Pushed to financial ruin, Kardashian says he couldn't pay his $300,000 worth of expenses and was forced to live in with his mom. And, he had to relinquish his dream company.
"When the business was struggling, my mother infused it with capital to keep it afloat, and from her infusion gained a 50% share in the company," Kardashian said in court documents, which Jenner confirmed.
In the legal declaration, she says, "I infused the business with capital, purchased goods, and set up distribution and fulfillment centers amongst other tasks."
Seems like she's already enjoying her new ownership!