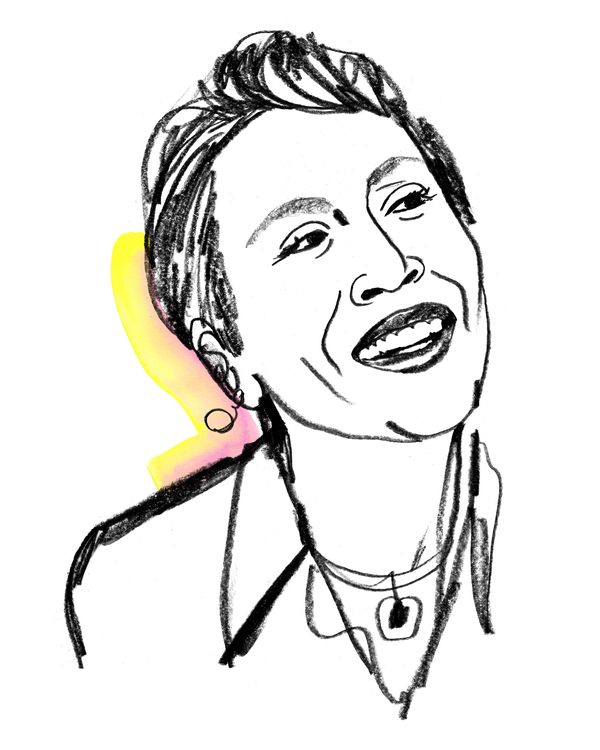 Illustration: Lauren Tamaki
Robin Roberts is America's de facto alarm clock. The former sports broadcaster and current face of ABC's Good Morning America wakes up at 3:15 a.m., preparing to reach roughly 4.5 million viewers every day. A survivor of breast cancer and myelodysplastic syndrome, a rare bone marrow disease, Roberts has interviewed the likes of Valerie Jarrett and, recently, Michelle Obama — all while combating stress with the help of yoga, prayer, and positive thoughts. She lives with her longtime partner, Amber Laign, on New York City's Upper West Side. Here's how she gets it done.
On getting up at 3:15 a.m.:
I wake up at 3:15. 3:15! At 3:30, I turn on the TV, and I watch about ten minutes to catch up on the headlines from overnight news. Especially nowadays, by the time you go to bed and by the time you wake up, who knows what has happened. I then turn off the TV and I meditate for 20 minutes in my bedroom. At that point, it's like 4:05, and I do some deep breathing. Then I turn the TV set back on to catch more of the news, hop in the shower, head out the door, and have my driver Dario put on some gospel music in the car. Then, I'm in the studio by 5.
On breakfast:
I can't eat in the morning. I take some gummies. Vitamin gummies, not the other kind of gummies — thank you very much. Then before I walk out the door every morning, I say the prayer of protection: "The light of God surrounds me, the love of God unfolds me, the power of God protects me, the presence of God watches over me; wherever I am, God is."
I never drink coffee. I drink plenty of water on the drive in to the studio and inside the dressing room. But when we have cooking segments on the show, I tear that food up. I ate a pork chop at 8:40 yesterday — almost dinner for me. I drink a lot of kombucha on the set. It looks like Blue Moon, and everyone always thinks I'm drinking a beer. I'm like, "Do you see an orange in there? No! That is not Blue Moon; it's kombucha. Come on, people."
On getting camera-ready:
I didn't wake up like this. I have a glam fam, okay? It takes a village. D'Andre dresses me. Elena is my makeup artist. Petula is my hair stylist. Nicole, right now, is my morning producer. They're all in there, helping me get ready for my day. I'm in my dressing room from about 5–6. Then I go and do some early promos. At 6:30, D'Andre leads us in prayer from Joel Osteen's message of the day. And then at 7, I say "Good morning, America."
On wellness:
I try to do pilates or yoga in the middle of the day to break it up, because when you're doing morning television, you're never really off. For those who believe we only work two hours a day, that's not true. There's a lot of prep work that goes into preparing for the next day.
Yesterday I did yoga, specifically a kind for people who have gone through cancer, because our balance is a little different, our bone structure sometimes changes. I have this wonderful instructor who has gone through breast cancer herself. And there was a lot going on that particular day — that was the day that CNN had to be evacuated, so I was a little tense. I was there sitting off to the side in my gym, and she's like "Breathe, Robin," and I'm looking at the TV monitors while doing a downward dog, like, "Oh my gosh, what's going on here." It was a little counterproductive.
On practicing optimism:
I remember from when I was an athlete, I was always at my best if I'd put in the work. It's no different with the work that I do here. I just make sure that I'm absolutely as prepared as I can be; you have to change the way you think to change the way you feel. Why think of the worst-case scenario? I make sure that my mindset is thinking in a positive way. And thankfully, I've gotten into the habit, and I say it countless times, because repetition is the mother of skill: Optimism is a muscle that gets stronger with use. Because I exercised it at an early age, it's become a habit. I'm very proud of that — it helps me in stressful situations.
On making time for loved ones:
[My partner] Amber [Laign] and I have been traveling a lot on weekends because I've had a lot of appearances, and we make time for each other during those periods. It's just about making those moments. I have a group text with my friends called Magnificent Seven. It drives me freaking crazy sometimes; I'm like, "Okay guys, I'm at work, I'm glad you guys are having a good time here, but I don't need to hear everything that's going on." I'm not a big texter or email person. I would rather just pick up the phone and actually talk to somebody.
On reaching inbox zero:
I drive Amber crazy with this, because I am pretty doggone good. I set time during the week to really go through and clear it out, and keep the unread ones first because I know that I want to get to them. But I send out my emails first. I am a loving person, but … I feel that emails add to other people's problems. I need to solve my own problems first, and then I'll get to yours.
On being a better boss:
Communicate. We don't do it enough — we use emojis. Sometimes I find, even as journalists, as professional communicators, we're worse at it than anybody else. I have found, especially with my young millennial staffers, that people crave feedback. They really want it — they want practical things that they can use to be better at what they're doing. I love that, because as an athlete, I was very coachable.
I'm listening to them, I'm taking their ideas, I want their ideas. I remember as a child, even though I would say to my mom and dad, "Oh, you're so mean," I craved discipline. And for the people that I work with, it's the same way. They want to know that there's somebody in charge, but also that they have a voice. I make sure that they not only have a seat at the table, but a voice at the table, and that they actually see it come to fruition. We talk about diversity, inclusion — that's great. But I don't want to just be on the team. I want to freaking get in the game. I want to be able to contribute. That's what I've learned through the people I have around me; I'm grateful when they can make me see ideas through their lens. I will never compromise my standards, but I'm open to difference.
On being an athlete and battling cancer:
I am a proud product of Title IX. I am so grateful for that legislation, and how important it was not just for sports, but for education. My older sister — who, by the way, saved my life as my bone marrow donor — she's eight years older, taller, more beautiful, smarter. But when she was going through a contract negotiation and she called me, I knew how to go about it because I played sports.
With all matters in life, I find a game plan. That's how I approached my illnesses. Cancer was the opponent. My doctors were my coaches. The treatment was the game plan.
On what she would tell her younger self:
I come across as being so strong, and I am, but I'm also quite vulnerable. I would tell my younger self: your mom and dad are going to die, you're going to almost die. But you know what, you're going to be sitting here one day talking to the Cut, and people are going to want to hear your story. Hopefully, there will be something that someone can glean from it, that will make their life better at this particular moment. Don't be so afraid. You're going to F up in big ways so many times, and it's going to be okay. You're going to figure it out.
There are so many incredibly talented people out there who are afraid. I just want to shake them and say, we all are. Every one of us is. My sister Sally said it best: "Don't let fear keep you from your destiny." So many people stay on the sidelines, and it pains me, because I want them in the game too. You don't get to choose the music that life plays you, but you do get to choose how you dance to it.
On waking America up in the morning:
It is the best feeling to say "Good morning, America" every day. I mean that sincerely. It's a privilege, just getting to put a smile on people's faces. Before I enter the studio every morning, I blow a kiss to my mother and my father. I used to call my mother every single morning after GMA in the dressing room. She was in Mississippi, so I'd have to wait until 10 a.m. for her to see it central time, because Good Morning America's on from 7–9. So I would wait, and I'd call her like clockwork at 10 a.m. Because my mother was such a ray of sunshine, she was the one who started my day.
This interview has been edited and condensed. Becoming Michelle: A First Lady's Journey with Robin Roberts will air on ABC on Sunday, November 11, at 9 p.m. ET.