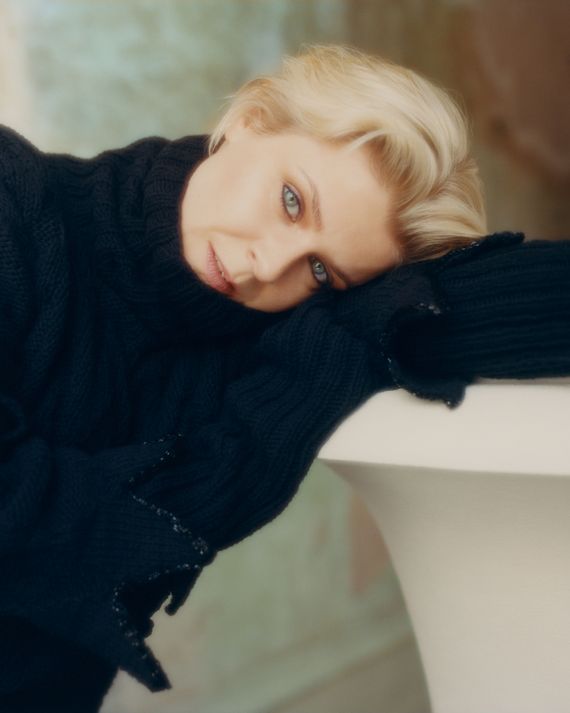 It's a Saturday morning in early October, and electro-pop artist Robyn is at home in her native Sweden, gearing up for a long day of press to promote Honey, her first album in eight years — 2010 is a lifetime ago by pop standards. While we talk over Skype, her phone and computer bing and buzz with a stream of alerts and demands for her attention. The world is hungry for her return to music. Robyn has been off the grid for years, grieving from a lot of loss: a decimating breakup with her on-again/off-again fiancé (with whom she's said to have reconciled this past year), followed by the 2014 death of her longtime friend, collaborator, and producer Christian Falk, in 2014. And with that grief came a deep depression. But she managed in that time to learn to produce her own music, painstakingly tracking and revising her new album. When she needed relief from her heartache, she sought it in Paris and in L.A., where she'd dance off her blues in the disco.
Honey evokes that time, and all the feelings and observations and growth that comes with mourning, and getting to know a new side of herself, arriving at an expansive, pulsing, liminal space of pleasure and aliveness. To say Honey is rich is an understatement — it's masterful, and fruitfully bears out the lust as well as all the joyous fuck-yous of Robyn during the Body Talk era, but now that she's older and has emerged from these life-and-death-changing experiences, she brings to it her brand of maturity.
Throughout our chat, Robyn shifts between being forthcoming and self-protective, politely circumventing certain conversational territory as "too private to speak about." She's open about her sadness but then offers guarded platitudes borrowed word-for-word from her album's press release. She is an artist who knows precisely how much of herself she is willing to reveal.
The 39-year-old singer spent six years, starting in 2010, in intensive psychotherapy, devoting several sessions a week trying to understand how fame had warped her sense of self, the impact of her parents' divorce, and get at who she really was. She says the album was preempted by a level of despair  that she coped with, in part by, by withdrawing from the world and its ebbless flow of information. "I was in a period of deep self-reflection, trying to get rid of a lot of things that I didn't like about the way I was thinking or feeling," she explains. "One of the greatest things about feeling like shit is that you can empathize with other people that feel like shit."
Robyn's depression eventually began to lift amid the recording process; in its wake came a sense of clarity that would eventually inform the songs and process of recording Honey. "When you're sad or really depressed, it really strips you. There's something really cool about getting down to the minimal amount of security that you need," she says. "That's what happens when you're really sad, you become really unstable, and you don't put yourself there unless you have to because it's really uncomfortable. But once you've gotten used to that and you don't—" she haltingly reframes her explanation of this life-shifting perspective. "In the beginning, I was really, really scared, and then after awhile, I felt like I didn't need a lot of safety that I thought I needed. I was disabled in a way by my sadness. I couldn't push through, which would be my natural go-to reaction. Then you decide to do things really, really, really softly, and you realize that's more effective."
The process — and the vulnerability and connections and friendship and music that had kept her afloat — fortified and liberated her not only as a person but as an artist. "You just become way lighter and, in a way, stronger. I would say that's the other way of saying strong, maybe — it makes you free. 'Strong' is the word. It's nice to use the word strong," she says. "The feeling that actually stayed with me and that kept coming into my life after I started feeling better is this pleasure kind of feeling that was really not to do with anyone else but myself. A self-generated energy that I could tap into on my own terms and whenever I wanted, which was a totally new thing for me."
While Robyn has a solid dozen songs that could be categorized as flawless, it's Honey's title track that most readily joins the canon. When I ask her how long she worked to finesse "Honey," she pauses to do the math. But it's beyond measure in hours — she guesstimates: "Six months, working full-time? A lot of it is things that don't end up on the record but things that you have to do to get there." The thought that allowed her to dive so deeply into her own creative vision, into a single song for months on end? "Realizing that everyone's just winging it."
In the wake of Falk's death, she says, there was a shift of perspective, and she realized "all the things you thought mattered might not matter so much." During this time she stayed off the road, became reclusive, traveled extensively and spent a lot of time dancing (turns out her "Dancing on My Own" was a prophecy). Robyn was very much having the relationship with other people's music that many have with hers — attempting use it to summit for her heartbreak, trying to transmogrify longing into something, anything else, one track at a time not so much to blot out pain but to move through it with the aid of pulsing 808's and loving friendship. "I danced quite a bit. I started moving my body and that really helped me, but like in a way that wasn't about what it looked like or whatever. Just trying to find a way to move that felt good and restored [my body] to me."
"I think, though, that music doesn't change you. I don't think music changes anyone. I don't think music changes the world," Robyn says, quick to qualify she's not naïve or insisting dance music can save the world. "I think people change the world, and you have to want to change. But, for it to happen, music can be this space where people get their energy back or kind of recharge." "Missing U" is Honey's lead track and first single, and it is an electro-disco epic; nearly five minutes of cascading, arpeggiated synth that draws it's matrilineal inheritance from Donna Summer's disco classic, "I Feel Love." Robyn breathlessly declares a state of disunion, trying to reconcile a happily never after, she sings "Can't make sense of all the pieces/ Of my own delusions / can't take all these memories / don't know how to use 'em." The unease and desperation of "Missing U" (and the pointed sass of her canonical hits like "Don't Tell Me What to Do") feels like a especially appropriate to soundtrack to, say, America's au currant high-speed skid down the shit-glazed Slip n' Slide™ of the Trump era. As she sings: "There's no control," "I'm right back in that moment/and it makes me want to cry," "If you got something to say/ You've got nothing to lose." The dumb/numb/forget/relax mode of dance pop doesn't quite hold when so much of the last year has been about reconciling lingering memories be they historical, personal, or indelible on the hippocampus. Honey's splitting of the difference on propulsion and plaintive darkness, duking it out with nostalgia that is more bitter than sweet under the thrown light of the disco's mirror ball — and it all affirms, as if anyone ever doubted, that Robyn's return is right on time.