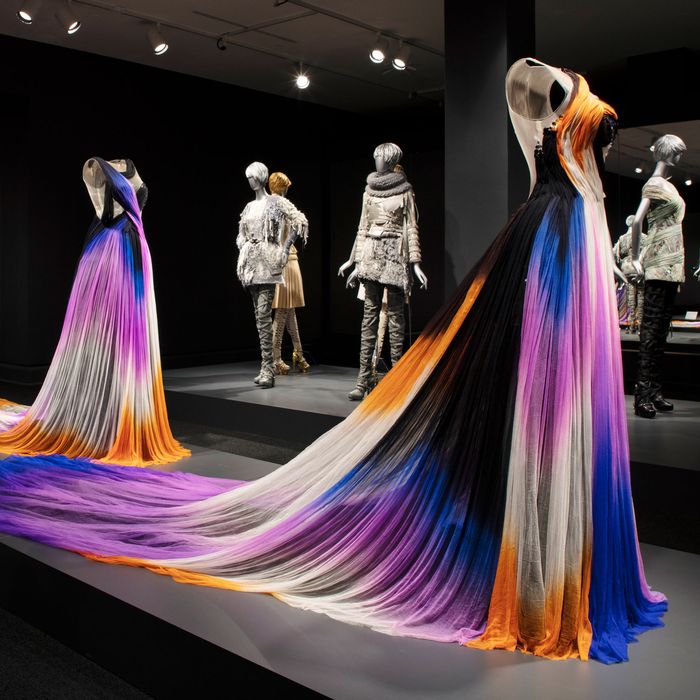 Photo: National Museum of Women in the Arts
On Saturday, the National Museum of Women in the Arts in Washington, D.C., opened its doors for "Rodarte," the first major solo exhibition for the label helmed by California-based sisters Kate and Laura Mulleavy.
The show is framed as a sort of mid-career survey of the designers' work and comes at an important moment for them. After abstaining for several seasons, Rodarte returned to New York Fashion Week last September for the spring 2019 shows. "I have realized that to do a show means creating live theater and allowing an audience to feel it has access to something really special," Laura has said about the decision.
Access to something really special is exactly what the exhibition is promising museum visitors: For most mere mortals, it's a once-in-a-lifetime chance to see Rodarte's delicate, meticulously crafted gowns in person. At NMWA, museum visitors can get whisper-close to 90-plus Rodarte looks, including the famous Star Wars dresses, tutus from the movie Black Swan, and that iconic yellow gown from the first-ever Rodarte runway show, which has since been acquired for the Met Costume Institute's permanent collection.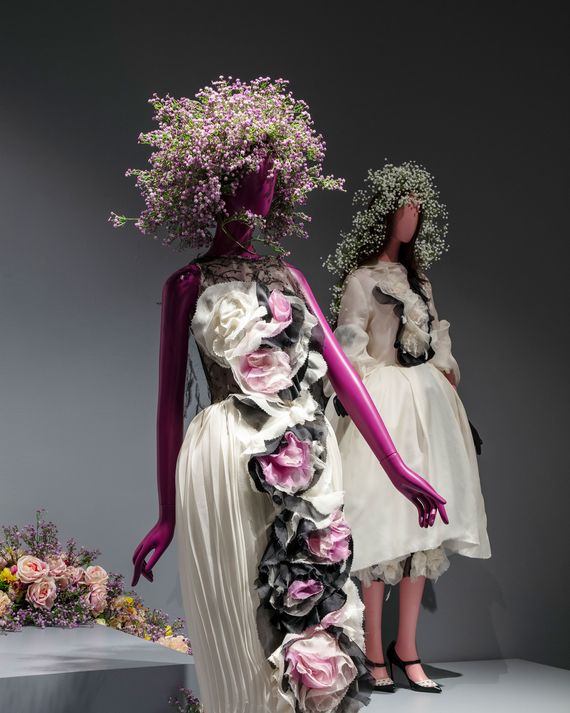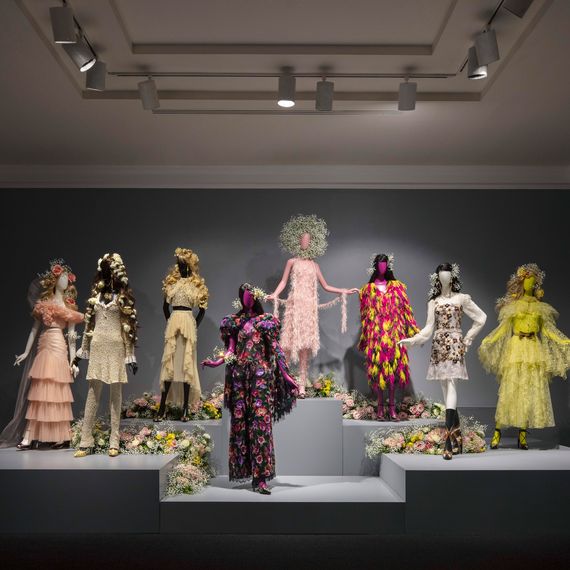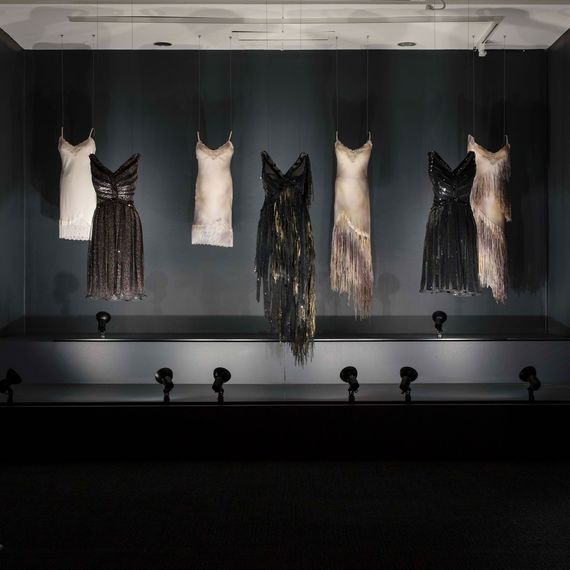 It's the intricate detailing in their clothing, nearly impossible to recognize in a magazine editorial or red-carpet photograph — the two places Rodarte is most likely to materialize — that the sisters hope visitors will engage with. "Clothing made like this can cause an emotional reaction, and if you can interact with it in person, it's the ideal situation," Laura told the Cut. "Our clothes are very textural. They are about details, and they're really powerful in real life."
The capsule of so-called "Star Wars dresses" from the fall 2014 collection is a good example. The most Instagrammable element of those gowns is, of course, the striking large-scale digital prints (Luke Skywalker, C-P3O, etc.). But in person, viewers can also see the craftsmanship that elevates the garments from kooky art-school project to couture — the hand smocking, for example, that involves thousands of crystals and dozens of hours of highly skilled labor.
The spring 2012 van Gogh–inspired collection, which the sisters say in many ways defines them as designers, also offers a deeper experience of the label's vision when viewed in person. "If you just read about the collection, it would be like 'Kate and Laura are inspired by van Gogh,'" said Kate. "But the truth is, when you get up close, they look just like van Gogh paintings, but they're not."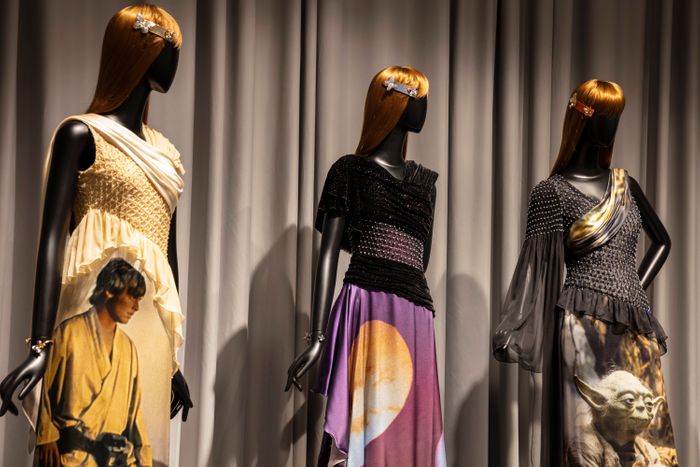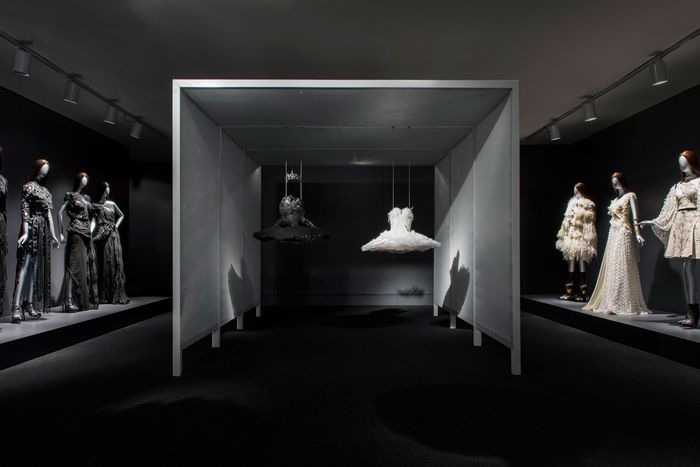 The "paintings" are actually digital composites of images of outer space. Sunflower centers are images of cosmos and planets. Van Gogh's Starry Night is replaced by NASA photographs of nebulas. "We had seen inside a telescope images of sun spots, and they looked just like sunflowers," Kate explains. "So Laura and I made the analogy, 'Wow, van Gogh's abstract way of painting and feeling was actually rooted in something very nonabstract.' This is reality, that we live in this expanding universe. And this is a way of seeing that in a sense is much more true."
The Mulleavys say that it was the process of revisiting their old collections and the talks they had with exhibition curator Jill D'Alessandro in preparation for the NMWA exhibition that ultimately inspired them to return to New York Fashion Week.
"For us, coming back to New York seemed very important emotionally because we had spent a year working on getting this exhibit put together, pulling from the archive, doing the whole editing process. It made us very aware of all the collections we had done over the years in New York City," Kate said.
"We're living in a time period where we can experience different forms of art in a digital sense. It's not the same as actually coming to an exhibition and seeing the piece, just as it might not be the same as actually being at a show."
For those willing to make the trip to D.C. to see it, the NMWA show offers a refreshing return to the tangible in a fashion era increasingly defined by virtual experiences.
"Rodarte" is on view at the National Museum of Women in the Arts in Washington, D.C., through February 10, 2019.