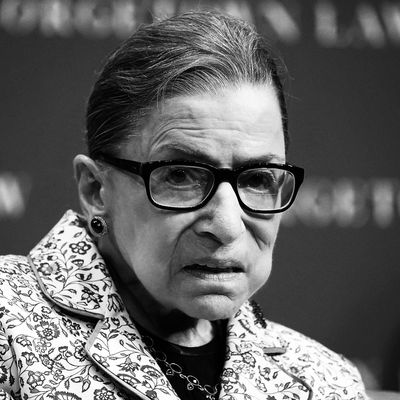 Justice Ruth Bader Ginsburg.
Photo: Alex Wong/Getty Images
On Thursday morning, the Supreme Court announced that Justice Ruth Bader Ginsburg, 85, has been hospitalized after falling in her office at the court the previous night and fracturing three ribs. But by Friday, Ginsburg was released from the hospital and working from home.
According to a Thursday release issued by the court, the justice went home on Wednesday night after the fall, but experienced physical discomfort throughout the night. Ginsburg then went to George Washington Hospital early the following morning. She was found to have fractured three ribs on her left side, and was admitted to the hospital for observation and treatment.
Thankfully, Ginsburg was released from the hospital on Friday morning, the Associated Press reports. Kathy Arberg, a spokeswoman for the Supreme Court, said that Ginsburg is "doing well" and back to working (but at home).
Justice Ginsburg has previously been hospitalized in 2014, when she was 81, to undergo heart surgery. At the time, USA Today reported she had a stent implanted because of a blockage in her right coronary artery. She left the hospital within 48 hours. In 1999 she was diagnosed with colon cancer and underwent surgery, chemotherapy, and radiation; a decade later, she underwent surgery for pancreatic cancer (which was detected in the early stages). Yet, she never missed a day on the Supreme Court bench. The Washington Post reports that in 2012, Ginsburg told a reporter she had broken two ribs, but still did not take any time off from court.
After her 1999 surgery, Ginsburg appeared to make health and fitness a priority and started going to the gym regularly. Since then, she has made headlines in recent years for her dedication to exercise and her seemingly grueling gym routine.
Ginsburg is one of nine justices sitting on the Supreme Court. She's been on the court since 1993, and is currently its oldest active member. After Anthony Kennedy announced his retirement this summer, President Donald Trump's nominee Brett Kavanaugh took his seat following a highly contentious confirmation process. Trump has vowed to only nominate justices who would overturn Roe v. Wade. Ginsburg told CNN this summer that she believes she has at least five years left on the court.
This post has been updated throughout.