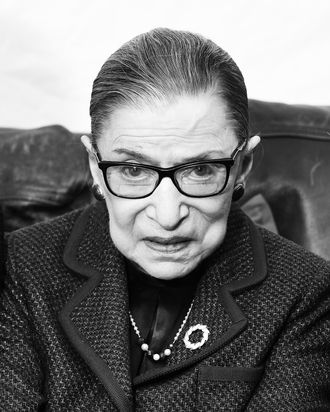 Ruth Bader Ginsburg.
Photo: Michael Loccisano/Getty Images
Greetings to your Ruth-Bader-Ginsburg-is-in-the-hospital freakout, brought on by the 85-year-old court justice falling in her office and fracturing a few ribs. I am not RBG's doctor, but I am one of her biographers, here to testify to her resilience.
This is not the first time RBG, now 85, and the oldest justice on the court, has tried to power through a rib injury: in 2012 she fell and cracked two ribs. At the time, her main complaint was that it came at "the worst possible time" (it could get worse, as we learned today!) because it coincided with the court's pivotal final month. She still managed to hold onto her record of not missing a day on the bench, which she may still hold, depending on her recovery time. A year later, at 80 years old, she sadly reported to the Times, "I don't water-ski anymore. I haven't gone horseback riding in four years. I haven't ruled that out entirely. But water-skiing, those days are over." She didn't mention the whitewater rafting.
She had already survived cancer twice, one a serious bout with colorectal cancer in 1999 and another an early-detection miracle of pancreatic cancer ten years later. It was in the aftermath of her illness that her husband persuaded her to start seeing her trainer, Bryant Johnson, who has also since trained justices Kagan and Breyer. She is now so committed to her fitness regime that she once left a dinner with Obama at the White House early so as not to miss a sweat. Her trainer, who has since published his own workout book and who showed off their routine on the Late Show With Stephen Colbert, calls her T.A.N. — tough as nails. When I interviewed her, I personally confirmed with her that she can do 20 push-ups, though she answered with her trademark precision: "Yes, but we do ten at a time," she said, and laughed. "And then I breathe for a bit and do the second set."
In 2014, RBG was persuaded to go to the hospital after experiencing some shortness of breath during a workout; a stent was put in for her heart. She had to be talked into going to the hospital then, too. My co-author Shana Knizhnik, who a year earlier has created the Notorious RBG meme to celebrate the justice's dissent in the Shelby County voting-rights case, was scheduled to visit RBG at the court not long after that, and assumed it would be rescheduled. Not so. Inside her chambers, Shana and a handful of other meme makers (including Call Your Girlfriend co-host Aminatou Sow) asked RBG what message she had for her fans. "You can tell them," she replied, "I'll be back doing push-ups next week."