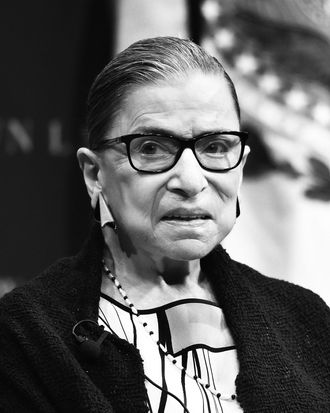 Photo: NICHOLAS KAMM/AFP/Getty Images
Apart from her actual doctors, few people know the state of Ruth Bader Ginsburg's fitness better than Bryant Johnson, a veteran of the Army Special Forces Airborne Unit who has been her personal trainer for the past 20 years. (I first met him when writing a biography of the justice, Notorious RBG.) When news broke Thursday that Ginsburg had been hospitalized after falling and fracturing some ribs, Johnson was among my first calls. Johnson is also the author of The RBG Workout: How She Stays Strong … and You Can Too!, for which the justice wrote the foreword.
We spoke Thursday night about what he has to tell the panicked progressives of America, and why RBG has been willing to work out on camera. Later that night, the justice's nephew, Daniel Stiepleman, told reporters some encouraging news about her condition: "The last I heard she was up and working, of course, because what else would she be doing, and cracking jokes." By the next day, she had been released from the hospital.
When was the last time you saw RBG, and how was she?
I saw her Tuesday night. She was fine. We trained Tuesday night, but you know as well as anybody else that during sitting [when the Court hears cases], she really focuses on a lot. You know her: She doesn't get much sleep because she's always getting ready for the cases and everything, and the hearings.
So she seemed fine to you on Tuesday?
Oh yeah, she was fine.
I'm sure you've been getting at least as many panicked messages as I have. Can you say anything to reassure all of the stressed out people of America?
To all the stressed out people in America, remember that the justice is TAN. Now, I always use that acronym: TAN. She's tough as nails. You think three ribs are going to stop Justice?
We probably won't train at least for another week or so just to give the ribs a chance to heal because the ribs are just very sensitive areas that you just gotta give them a chance to heal. And then we'll pick back up just like we usually do, and I'll take in account for the ribs and we'll just kinda ease and move in a little bit easier around 'em.
I remember you telling me that when she cracked her ribs before, in 2012, she wanted to get right back to the workout.
She found out that the ribs were cracked and she wanted to work out the next day because she felt she was feeling pretty good. She didn't feel any pain. And it's like, "Yeah, it's probably the pain medicine." I know better, that the cracked ribs need a little bit more time to heal.
I always train on the side of precaution, but also, I'm here to help her, not to hurt her. [In our next workout]  I may just have her do some stretching, and easier on the weights. We may not do planks, we may, it all depends. Sitting down, standing up, we'll do some squats. Usually when we work out, we're kinda like on autopilot. There's not much conversation. This time, there'll be more conversation with me.
Just so it's clear, she's the one who is usually more hardcore?
Yes. Justice realized the value of her workouts, and she very rarely wants to miss a workout. My job is to make sure that if she is doing something, that it's not going cause more damage. It's why we've been together for so many years. It's about her; it's not about me, it's not about my ego. It's also about making sure that I'm helping her to help herself.
Most public figures wouldn't be comfortable with everyone knowing their workout details. Why do you think Justice Ginsburg is so open about it?
Her lifting weights: How empowering is that for women? How empowering is that for older women? How empowering is that for women that have been diagnosed with cancer? How important is it for women who have been diagnosed with cancer to realize that weight-bearing exercise is so important for your recovery before, during, and after? This is another way of empowering women.