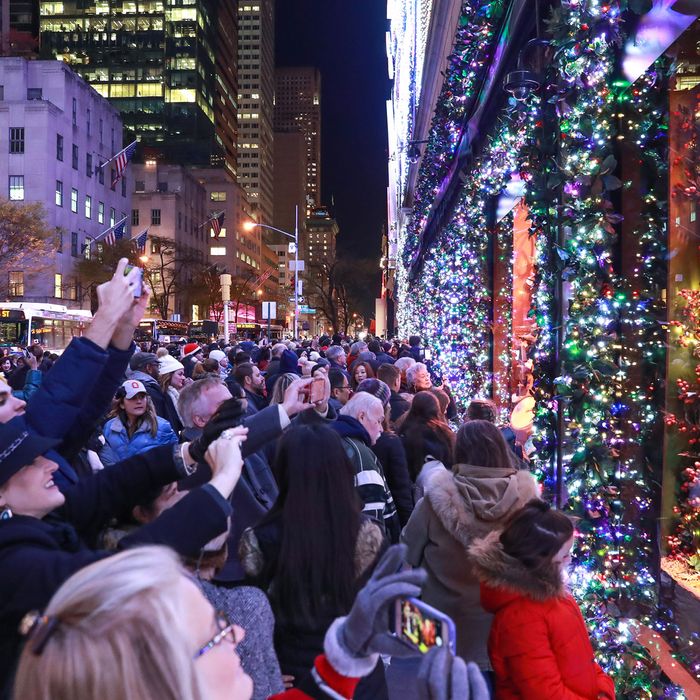 A look at last year's window reveal.
Photo: Neil Rasmus/BFA.com/Courtesy of Saks
It's finally November, so you know what that means — busting out your favorite fall coats from under the bed, going out of your way to step on a crunchy leaf, and, of course, Thanksgiving dinner. The cherry on top of November is the handful of parades, celebrations, and window displays that hit the streets of New York. This year, Saks Fifth Avenue is putting on a performance with 124 Broadway dancers to reveal its iconic holiday windows, on Monday, November 19 at 7 p.m.
To host the event, Saks partnered with the nonprofit Broadway Cares, a fundraising organization that assists people with AIDS and other critical illnesses across the country.
"What could be more magical for the holidays than 124 high-spirited Broadway dancers filling Fifth Avenue to usher in the holidays, in front of New York's most iconic window displays and light show?" the executive director of Broadway Cares/Equity Fights AIDS, Tom Viola, said in a statement. "We're honored Saks invited us to join them in this special celebration, and particularly appreciative of Saks' support for those who've been marginalized and simply need a kind, helping hand."
You can witness the performance, titled "Theater of Dreams," at Saks.com, or live in person on November 19. After the big opening, the windows and an accompanying ten-story-high light show will be on display until January 2. If you're feeling especially inspired by the holiday spirit, you can also sponsor a light bulb on the facade of Saks. All proceeds go to Broadway Cares.
Check out the video below for a peek behind-the-scenes at the making of the performance.