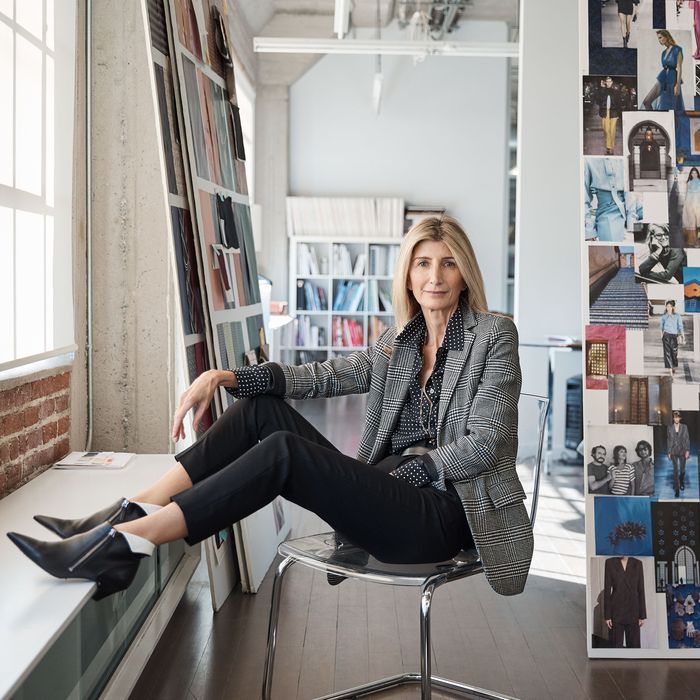 Sarah Rutson wears Tabitha Simmons + Equipment boots.
Photo: Magdalena Wosinska
In her 30-plus years working in fashion, Sarah Rutson knows what drives women to shop. Working for retail powerhouses like Net-a-Porter and Hong Kong's Lane Crawford, Rutson has overseen billions of dollars in sales and instinctively knows what risks to take when it comes to new brands, designers, and products. In the process, she's also become a street-style fixture , standing out for wearing minimalist outfits that usually consist of a sharp jacket and high heels.
After living in Hong Kong, London, and New York, Rutson moved in 2017 to Los Angeles, where she is now chief brand officer of the Collected Group (the umbrella company for clothing brands Joie, Equipment, and Current/Elliott). Under her leadership, she juggles nine collections at once while working to rebrand and grow each label. The Cut caught up with Rutson in between her many meetings to talk about her love of high heels, her belief that personality outweighs any outfit, and why she aims to be an approachable boss.
On what she wears to big meetings: I love a crisp white shirt and a jacket. It sounds generic, but it's always been the backbone to my wardrobe and remains a classic design combination. I like to think I make it look anything but basic. I also tend to wear heels as they make me stand better — I'm straighter, taller. When my stance is strong, I find my delivery is better!
Shop Blazers
On her lack of desk shoes: I don't keep shoes at my desk as I've always believed you shouldn't wear shoes that are uncomfortable or not right for the type of day you're going to have. I coined the phrase "dress from the feet up" as that's how I decide what to wear in the morning. You pick your shoes first, knowing what kind of day you will have or what mood you are in, and work upwards!  Net-a-Porter used this as a tagline when I was working there.
On dressing for after-hours events: It depends where I am going and what the occasion is. If it's a nice dinner, I tend to wear pants and a blazer. That's always been very me, and you can't go wrong with a black tuxedo jacket and wide-leg trousers. I always wear my Jennifer Fisher necklace and charms and I never take them off. As for shoes, I love a pointed stiletto because it's a classic. I go for a 120-millimeter heel — when I go high, I like to go very high! Gianvito Rossi is a favorite as his silhouettes really suit my foot. I love heels and I have over 500 pairs of shoes. Although, I have to confess, I recently did a huge purge of shoes and sent them all to The RealReal!
On Mondays: Now that I live in Los Angeles, my fashion life is very different than the previous 30 years. I'm very low key but still me. I've been living in a pair of Current/Elliott jeans lately — they're high-waisted with a straight leg in the dark wash. I tend to only ever wear rigid denim, not stretch, so we did a lot of work to make Current/Elliott rigid washes very soft and lightweight. I usually pair these with a shirt and jacket from Equipment.
Shop High-Waisted Jeans
On leadership: I have learned, meeting many many people, that it's a personality in the room will keep you mesmerized. Thirty seconds after you open your mouth, it's more about what you have to say and less about what you are wearing that will keep them engaged and listening. It is all about controlling your content and delivery.
On her biggest challenge: L.A. is a strange place for a hard-core city girl like me, and a city that is not like any other I have lived and worked in. It's a very casual place where people don't really dress up so I travel to not feel so isolated. It is, however, a wonderful place to come back home to and relax. It just has a more laid-back vibe. I also really enjoy working with my design teams and truly love them — they keep me on my toes and we also laugh, a lot.
If you buy something through our links, New York may earn an affiliate commission.