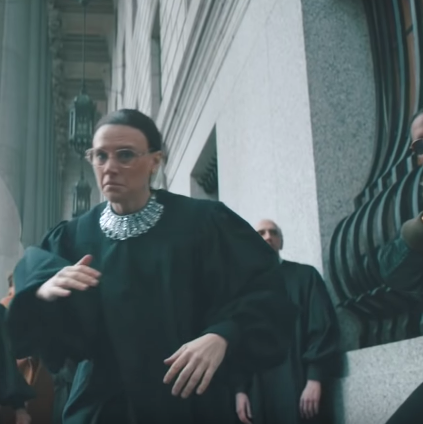 Kate McKinnon as Ruth Bader Ginsburg.
Last week, Supreme Court Justice Ruth Bader Ginsburg fell in her office and broke her ribs, causing a bit of panic. If anything happens to RBG, a seat would open on the bench, and Trump would have another opportunity for a lifetime appointment. But, Ruth Bader Ginsburg is resilient. She was most worried about the timing of the broken ribs, not the injury itself. Saturday Night Live paid tribute to that in the best possible way: a very intense rap video.
"You think some broken ribs are going to her? Hell naw!" Chris Redd and Pete Davidson rap, before Kate McKinnon as RBG, wrapped in her justice robes appears on the scene. "Live Ginsberg and I ride for Ginsburg!" Pete and Chris rap. "Her name's RBG and she's from BK!"
They chronicled Ginsburg's successes ("She went to law school and was first in her class!") and historic career including working for former president Jimmy Carter and "fight for women's rights, for equal rights," as McKinnon bounced around in the justice robes. She antagonized a man that looked very similar to Brett Kavanaugh, as beer exploded in his face. "Survived the depression and Twitter attacks from Trump," Pete and Chris continued. "Broken ribs can't stop her, boy she eats that shit for lunch!"
The cast of Saturday Night Live and Ruth Bader Ginsburg's trainer are both confident that the Justice is stronger than ever, so there's no need to donate any ribs to her.